In recent years, the investment landscape has significantly shifted towards sustainable and socially responsible investing. Investors are increasingly seeking opportunities that not only generate financial returns but also contribute positively to the environment and society.
One such avenue that has gained prominence is the Aviva Multi-Asset ESG Fund. This fund represents a fusion of financial evaluation and ethical considerations, allowing investors to align their portfolios with their values while potentially reaping attractive returns.
Understanding ESG Investing
Before diving into the specifics of the Aviva Multi-Asset ESG Fund, it's important to grasp the concept of ESG investing. ESG stands for Environmental, Social, and Governance, and it refers to a set of criteria used to evaluate the sustainability and societal impact of a company. 
ESG investing involves considering these factors alongside traditional financial metrics when making investment decisions. This approach recognises that a company's behaviour in these areas can significantly influence its long-term financial performance.
Opting for investments in ESG funds can offer benefits such as:
Alignment with Values 
Your investments are aligned with your ethical principles and beliefs.
Advocating Sustainable Practices
By investing in ESG funds, you lend support to companies that prioritise sustainable and ethical conduct.
Potential Long-Term Performance
ESG funds might outperform traditional funds in the long term.
Risk Mitigation
Investing in these businesses could potentially reduce your overall investment risk.
Transparency and Insight
ESG funds often emphasise transparency and disclosure, offering investors clearer insights into their chosen companies.
Regulatory Backing
Ireland and the wider European Union are witnessing a surge in regulatory and policy backing for ESG investments, fostering a conducive ecosystem for ESG investing and potentially propelling sector growth.
Investing a Lump Sum in ESG Funds
If you have a lump sum of money, Investing it strategically offers a means to safeguard your funds against the erosive effects of inflation. We provide a diverse range of options precisely tailored for this purpose, with ESG (Environmental, Social, and Governance) funds being a prominent choice. Contact us to know more.
What is the Aviva Multi-Asset ESG Fund?
The Aviva Multi-Asset ESG Fund is a prime example of the growing trend towards ESG investing. This fund is designed to provide investors with exposure to a diversified portfolio of assets while integrating rigorous ESG criteria into the investment process. It seeks to strike a balance between generating competitive financial returns and making a positive impact on society and the environment.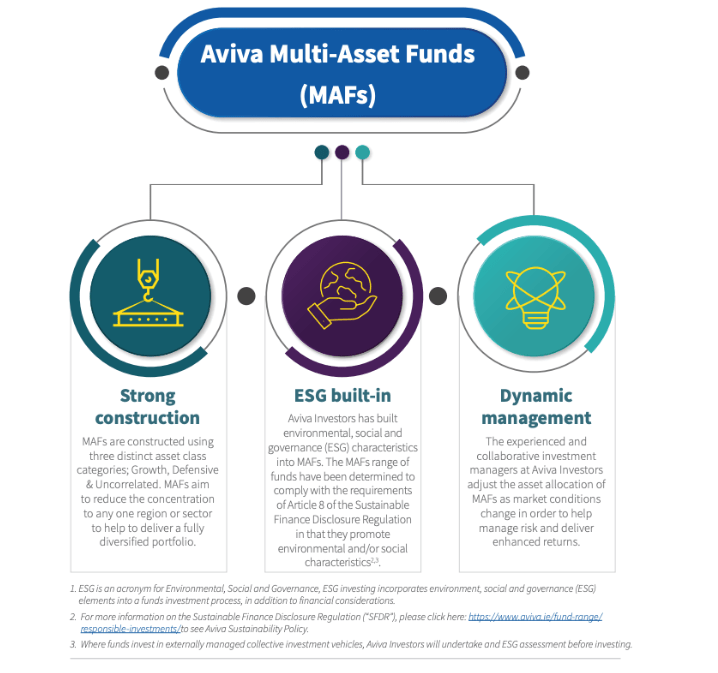 5 Reasons to Invest in Aviva Multi-Asset ESG Funds
A fund to suit you
Aviva Multi-Asset Funds (MAFs) have a range that aims to meet the needs of customers across different risk profiles. If your attitude towards risk or your circumstances change, you can speak to LowQuotes about switching to another Multi-Asset Fund that targets a higher or lower risk and reward profile.
Diversification
Maintaining an expansive array of assets is important for providing diversification across a range of different market conditions. The Funds use three distinct asset categories:
– Growth assets (like equities) which will be a key driver of returns in the portfolio over the longer term but will likely be the most volatile aspect,
– Defensive assets (like bonds) which could generate modest positive returns over time while offering protection in less favourable conditions,
– Uncorrelated assets (like absolute return funds) that could offer different characteristics to growth and defensive assets.
ESG Integration
Aviva Investors has gained global recognition for its approach to Environmental, Social and Governance (ESG) investing, and they use their three-pillar strategy in the management of MAFs. Aviva Investors has built environmental, social, and governance (ESG) characteristics into MAFs. The MAF's range of funds have been determined to comply with the requirements of Article 8 of the Sustainable Finance Disclosure Regulation in that they promote environmental and/or social characteristics.
Dynamic Management
Managed with an active approach, these funds swiftly and resolutely adapt to evolving market dynamics, effectively mitigating risk and amplifying potential investment gains. They dynamically reallocate your investments as needed, enabling the selection of particular sectors or regions deemed to hold the most advantageous potential value during any given period.  
Global scale and experience
Aviva Investors oversee approximately €87 billion in global Multi-Asset Funds and hold around €2.2 billion in assets exclusively within Ireland. With over 35 years of engagement in multi-asset investing, their investment choices are formulated by a team of roughly 55 adept professionals, all dedicated to the intricacies of multi-asset investment strategies.
What is SFDR?
The Sustainable Finance Disclosure Regulation (SFDR) is a regulation introduced by the European Union (EU) aimed at promoting environmental, social, and governance (ESG) considerations within the financial sector. SFDR came into effect on March 10, 2021, and its main objective is to enhance transparency and consistency in how financial products and services integrate sustainability factors.
Retirement Investment with Aviva My Future ESG Lifestyle Strategies
According to research from Aviva, 8 in 10 pension holders are concerned about the impact of climate change. By investing in companies that prioritise sustainable practices, ethical standards, and transparency, individuals are effectively aligning their financial choices with their environmental values. 
Exclusively available through Personal Pensions, Group Pensions, Executive Pensions, and Personal Retirement Bonds, the Aviva My Future ESG initiative tailors investments not only for potential financial returns but also for positive contributions to the environment and society.
Aviva is dedicated to helping you plan your retirement. A range of three lifestyle strategies tailored to your selected retirement age and chosen option at retirement Aproved Retirement Fund (ARF), Annuity, or Lump Sum.
Read more about My Future ESG Lifestyle Strategies.
Maximise your savings and investments with LowQuotes Advice
LowQuotes is a market-leading online broker in Ireland with over 800 5-star Google rating and 25 years of experience. We are proud to be awarded Insurance Broker of the Year 2022 as the result of our team's dedication to providing market-leading independent advice and exceptional customer service.
For comprehensive guidance on your savings and investments strategies, contact LowQuotes for expert advice. With our wealth of financial knowledge and industry expertise, we can provide tailored recommendations that align with your financial goals and risk tolerance. 
Whether you're aiming to grow your wealth or secure your future, seeking advice from LowQuotes can help you make well-informed decisions. Contact us today!