Financial Advice in Ireland
We all have different financial goals depending on our lifestyles.
The success of achieving our financial goals depends on the financial advice and plan.
Let our award-winning advisors take care of it for you.
Meet our Team of Expert Advisors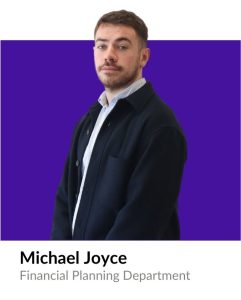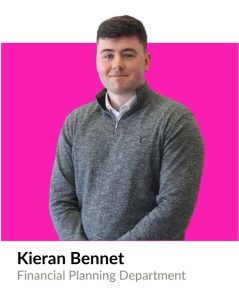 Why a Financial Advisor is important
A Financial advisor helps individuals and businesses how to manage their money. Having the assistance of a financial advisor can be differently valuable for each one depending on their goals and milestones. The guidance in financial will help you decide about:
A survey was carried out by Zurich to gain insights into people's attitudes towards financial advisors when it comes to savings and investments.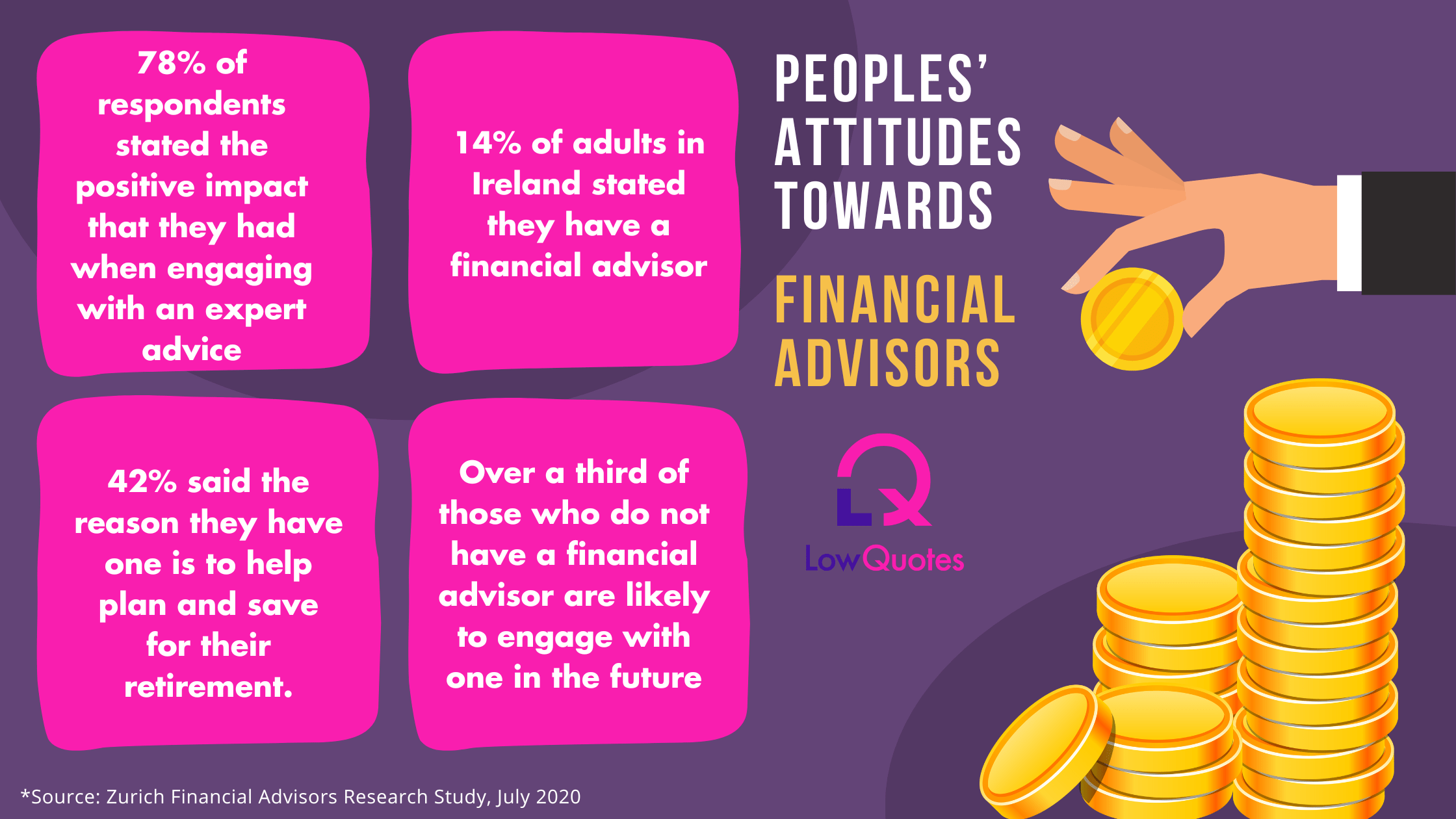 Is a Financial Advisor only for those with a lot of money?
You don't have to be wealthy or near retirement to benefit from financial advice. When people think of what financial advice is, they might associate a financial advisor as a person who only works with wealthy clients with complex financial needs and recommends great investments.
A financial advisor is more than this. An advisor's mission is to help you close the gap between where you are financially and where you'd like to be. 
If you're looking to buy a financial product, manage your money more effectively, or simply plan longer-term goals, financial advice is for you.
Getting financial advice in Ireland will ensure absolute peace of mind that your future expenses have been planned adequately and your financial plan will cover all possible scenarios. 
Having a financial plan is essential to get the maximum out of your hard-earned money and the first step in your journey to Financial Wellness. 
Low Quotes is one of your best choices when choosing a financial advisor in Ireland due to our 5 star google rating from over 800 happy customers, and we can help you accomplish your financial objectives.
When you should hire a financial advisor
Financial Planning is about putting every aspect of your personal life together and creating a plan to meet your personal and financial goals. And that's when you can benefit from speaking with us. Getting a financial plan can make a huge difference.
Not everyone needs a financial advisor, but when you have complex financial goals and need personalised guidance it might make sense to rely on one for either specific or general guidance. For instance, if you want to plan for a child's education, a wedding, or you inherited a property, for example, we have the expertise to develop a strategy to help you understand your options and make informed decisions about your money.
Uday Bashaboina
★★★★★
Best deals for mortgage protection. I recommend "low quotes". Time saver as there wont be any queue/call waiting if you want to talk to them. It is a direct phone which rings and they answer straight away. Talking to Alison was really great to deal with. Money saver compared to other insurance providers.
Trisha Fallon
★★★★★
Found Low Quotes very easy to deal with, very informative and communication regarding every aspect excellent especially staff member Michael.
Jack Coldrick
★★★★★
I reached out to LowQuotes.ie in relation to securing mortgage protection. I spoke with one of their financial advisors - Colin Bailey who was incredibly helpful, insightful and transparent. I'm not well versed on these things and he took the time to explain everything in detail and ensure I was comfortable moving forward. Thank you Colin! I'd highly recommend LowQuotes.ie.
norman murray
★★★★★
Very happy with my policy through lowquotes...was dealing with Dylan who was very helpful in every aspect and went up and beyond to help me out and get the best policy possible to suit me...will definitely be recommending family and friends to deal with Dylan.Thanks again for all your help Dylan your a great asset to lowquotes 🙂
Cameron Elliott
★★★★★
In a generation where trust and loyalty isn't everyone's first priority. I have never felt more looked after in regards to insurance advisory and future planning than in the very capable hands of Mr Dylan Cadwell. A 5 star service from the beginning this is a man who is passionate and driven in giving truly a first class service to all his clients and potential clients no matter what the circumstances or obstructions might be. All I can really say is that if you're not on board now, it's time to get the ball rolling before it's too late, Dylan Cadwell is a true professional who won't let this opportunity get away.
kevin braney
★★★★★
I recently had the pleasure of working with Dylan, my financial advisor, and I couldn't be more grateful for his expertise and guidance. He helped me set up a health care plan that perfectly suits my needs and those of my two kids. Dylan's knowledge and professionalism were evident throughout the process, and he patiently answered all my questions. I highly recommend Dylan for anyone seeking financial advice and assistance. Thank you, Dylan, for your outstanding service!
Martin
★★★★★
I would like to thank Richard from lowquotes for helping me find mortgage protection, I was very stressed because I was refused already but Richard made everything stress free and as I work office hours it was no trouble for him to arrange a meeting to suit my needs, everything was done efficiently and smoothly and all email communication was quick, thanks for your help Richard it's really appreciated
Cian Reddy
★★★★★
Dealt with Dylan Cadwell , incredible attention to detail and customer service. Unbelievably helpful from the get to and made the process so easy. Will definitely be going back and dealing with this company and with Dylan again.
Sheehan Sinha
★★★★★
Had a really great experience with low quotes. Big shout-out to Richard Westman who was extremely professional and helped us through out mortgage protection process very easily. We didn't have to worry about anything. I would recommend low quotes and go through Richard. Really great guy and extremely helpful.
Aaron Sheehan
★★★★★
Finally got some great help getting insurance, thanks so much with your help guys and Dylan cadwel you were great over the phone
Leanne Mullen
★★★★★
Amazing service provided by Dylan Cadwell! Extremely professional and thorough experience throughout the whole process of implementing my cover! An absolute gem and went over and beyond to get me the best cover! I have recommended Low Quotes/ Dylan Cadwell to all my friends and family! Thank you Dylan for all your help!
Eoghan Farrell
★★★★★
Dylan Cadwell was very helpful today couldn't recommend him any more!
Michelle Gavigan
★★★★★
Dylan Cadwell was very helpful and thorough in helping me find the best level of cover and protection. His advice and knowledge was fantastic and I am very happy I committed to speaking to low quotes !
Luke Byrne
★★★★★
Dylan provided outstanding financial advice, and the experience of dealing with him was truly enjoyable. Highly recommend his services!
Marcin Lis
★★★★★
I contacted LowQuotes.ie today looking for a professional financial advice and it is safe to say that I received just that. Dylan Cadwell has outdone himself and walked me through every little bit of information that was relevant to my situation and made it very simple and easy to understand. I couldn't recommend LowQuotes and Dylan more to anyone looking for a financial advise. Thank you!
Cody McGrath
★★★★★
Great service particularly from my financial advisor Dylan Cadwell. One of the best in the business
eimear sherwin
★★★★★
I would just like to thank the team at low quotes for helping me get the perfect policy in place for me and my family, our financial advisor Dylan Cadwell in particular who tailored a policy to suit out individual needs! The service and wealth of knowledge was next to none! I would highly recommend Dylan and low quotes to anyone!
ornaith o'riordan
★★★★★
We dealt with Colin and he was absolutely brilliant. Everything was explained perfectly and quickly and he made the process of getting our mortgage protection so quick and easy.Would 100% reccommend LowQuotes.ie and ask for Colin!
Adam Holland
★★★★★
Very nice people to work with. Would recommend
Marie-Lou Dempsey
★★★★★
Great service from Colin Bailey who patiently covered all the options and answered all my questions, Mortgage protection cover sorted!
Jeomerly-Anne Chico
★★★★★
Many of my colleagues advised me to take a Life Insurance Policy. LowQuotes Colin Bailey helped me and my partner understand our needs and is very patient with our queries. Highly recommended.
Mark Reynolds
★★★★★
What a great service and well educated staff highly dedicated to meeting my needs most notably Dylan Cadwell's exceptional attention to detail while providing services was truly commendable.His thoroughness and precision not only instilled confidence but also ensured that every aspect of the financial process was handled meticulously. I highly appreciate his commitment to delivering a service marked by keen attention to detail. His knowledge expands over a wide range of areas and I wish you luck in your future endeavours.Thank you
Paulo Sousa
★★★★★
I recently had the pleasure of engaging with Dylan for insurance and mortgage protection services, and their commitment to outstanding customer service exceeded my expectations!When I reached out to inquire about insurance and mortgage protection options, he demonstrated an unwavering commitment to providing exceptional customer service with personalized attention, clear communication, and expertise.I confidently recommend Dylan to anyone seeking reliable and customer-focused insurance and mortgage protection services. His dedication to providing exceptional customer service truly sets them apart!
laura fetherston
★★★★★
I dealt with a lovely man called Richard. He was very accommodating to suit me and my husband with a call back . He got us a great deal . We are very happy with what he helped us pick .
Fiona Jessup
★★★★★
Richard was so helpful and explain the different policy we could go for. He was very patience with questions and gave get advice. Would definitely recommend him. Everything set up in no time and feel much happier now for the future. Thanks again
Helping you design
the future you want.
Building a strong relationship with our clients throughout their lifetime is our core value.
We believe it's essential for every aspect of a clients financial outgoings be planned & managed carefully such as cashflow, mortgages, protection, retirement & investments. 
This ensures a clients financial goals can be effectively met. 
If you have a specific requirement in mind – we also have specialist advisors in each financial product willing to assist you.