Financial Advisor in Ireland
Why a financial advisor is important
A Financial advisor helps individuals and businesses how to manage their money. Having the assistance of a financial advisor can be differently valuable for each one depending on their goals and milestones. The guidance in financial will help you decide about:
A survey was carried out by Zurich to gain insights into people's attitudes towards financial advisors when it comes to savings and investments.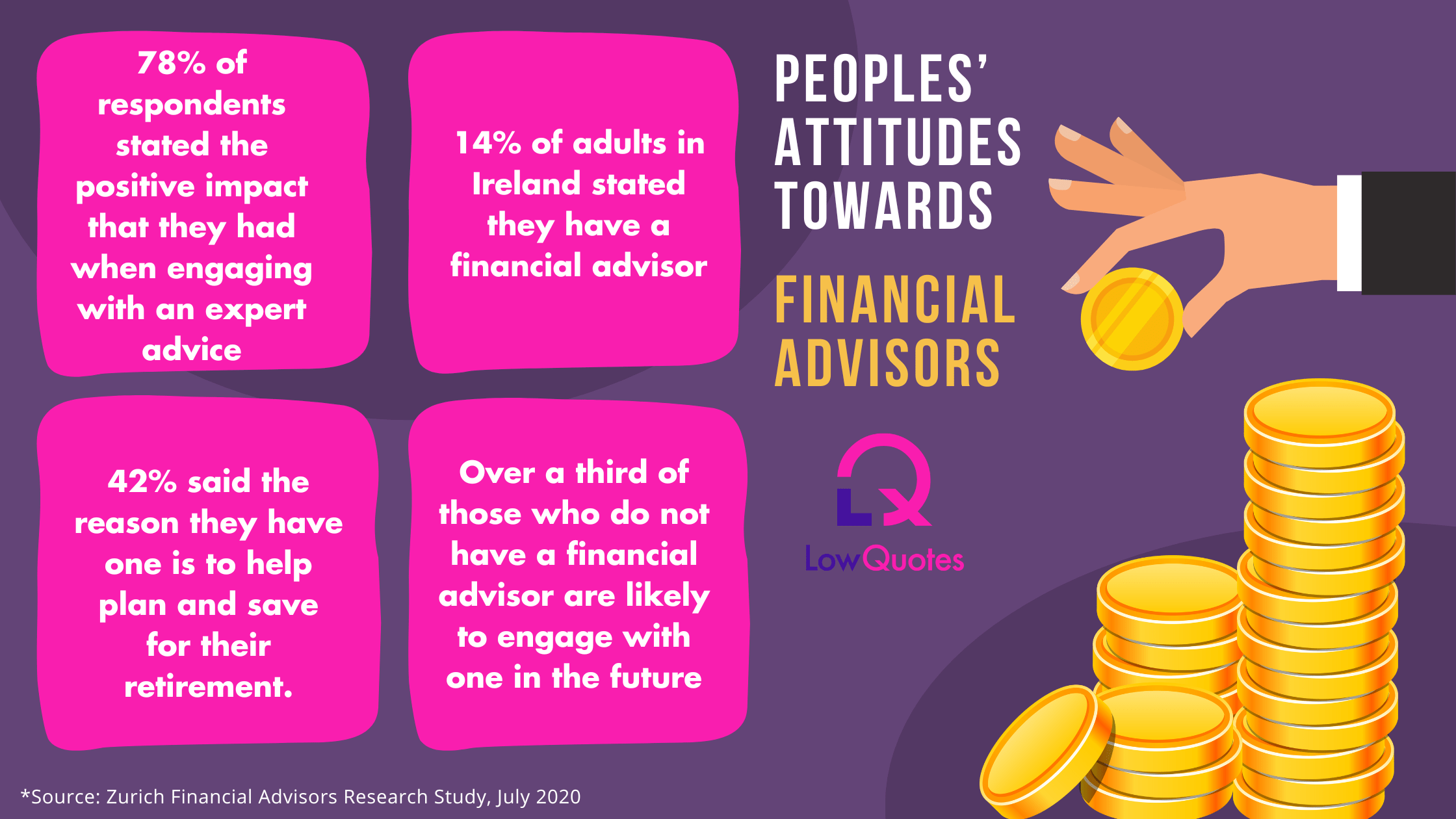 Is a financial advisor for those with a lot of money?
You don't have to be wealthy or near retirement to benefit from financial advice. When people think of what financial advice is, they might associate a financial advisor as a person who only works with wealthy clients with complex financial needs and recommends great investments.
A financial advisor is more than this. An advisor's mission is to close the gap between where you are financially and where you'd like to be. If you're looking to buy a financial product, manage your money more effectively, or simply plan longer-term goals, financial advice is for you.
Getting your financial advice in Ireland will ensure absolute peace of mind that your future expenses have been planned adequately and your financial plan will cover possible eventualities. 
Having a plan is essential to get the maximum out of your hard-earned money and the first step in your journey to Financial Wellness. Low Quotes is one of your best choices when choosing a financial advisor in Ireland due to our 5 star google rating from over 500 happy customers, and we can help you accomplish your financial objectives.
When you should hire a financial advisor
Financial Planning is about putting every aspect of your personal life together and creating a plan to meet your personal and financial goals. And that's when you can benefit from speaking with us. Getting a financial plan can make a huge difference.
Not everyone needs a financial advisor, but when you have complex financial goals and need personalised guidance it might make sense to rely on one for either specific or general guidance. For instance, if you want to plan for a child's education, a wedding, or you inherited a property, for example, we have the expertise to develop a strategy to help you understand your options and make informed decisions about your money.
Your award winning
financial planning partner
Helping you design
the future you want.
Building a strong relationship with our clients throughout their lifetime is our core value.
We believe it's essential for every aspect of a clients financial outgoings be planned & managed carefully such as cashflow, mortgages, protection, retirement & investments. 
This ensures a clients financial goals can be effectively met. 
If you have a specific requirement in mind – we also have specialist advisors in each financial product willing to assist you.