We understand that we are all feeling the effects of inflation and the cost of living crisis. Trying to manage all the regular bills like electricity, internet, gas, etc can feel overwhelming at times. You might switch these service providers to save a bit of money on your monthly payments. However, sometimes people don't realise the biggest of these outgoings; your mortgage can be switched too, without even leaving home! 
According to the latest report from the Banking Payments Federation of Ireland (BPFI), the number of Irish people switching mortgages has more than doubled, reflecting the fact that mortgage customers are seeking out better rates in the wake of the interest rate increases recently announced by the European Central Bank.
Overall, the reports show continued growth in both mortgage approvals and drawdowns in Q3 2022. Non-purchase mortgage activity, which includes switching and top-ups, grew by 120.1% in volume terms year-on-year to 5,081 and by 222.9% year-on-year to €1,297 million over the same period.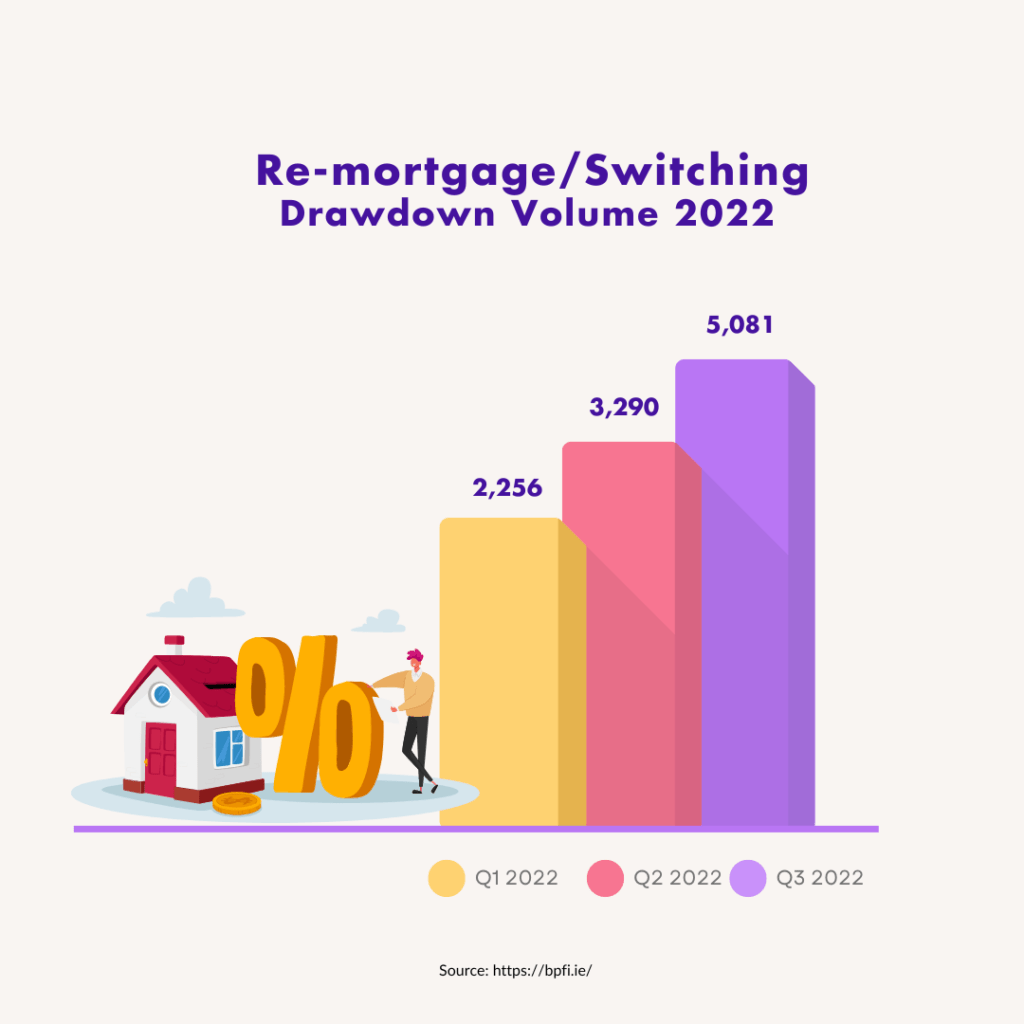 However, a survey from the Central Bank of Ireland indicates that less than 3% of mortgages switched providers in H2 2019. This shows that people are missing a huge opportunity to save money by switching.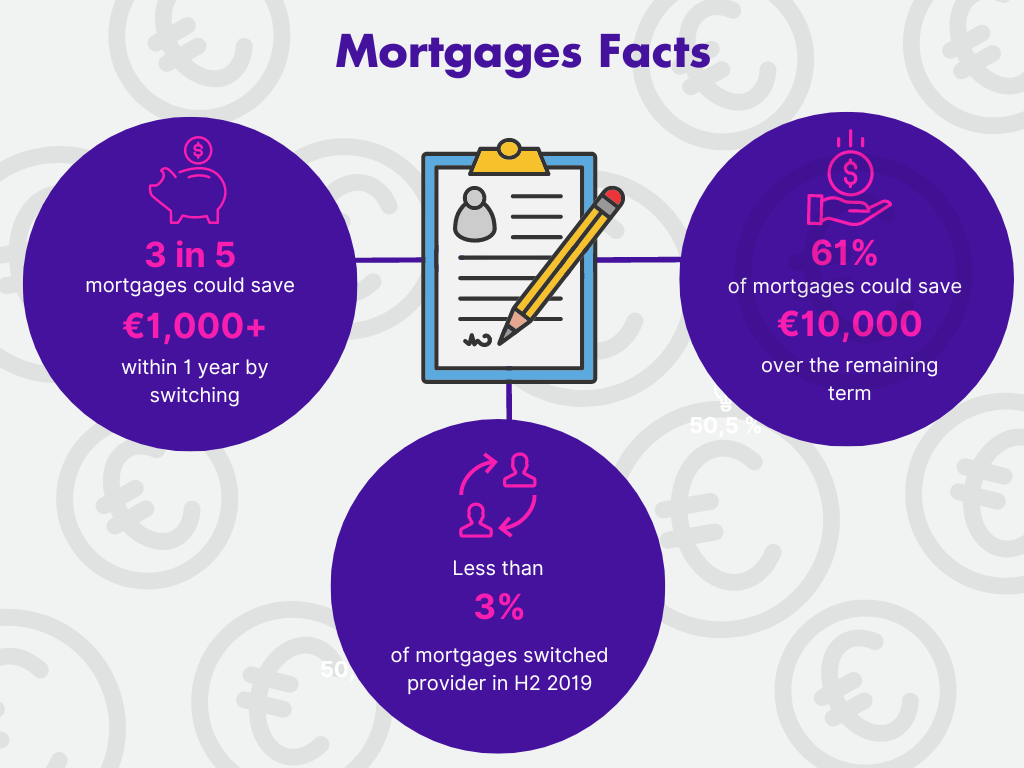 If you want to switch your mortgage you will find several options available from mortgage providers in Ireland. You can make significant savings on your loan if you switch to a different lender with a lower interest rate. We compare all major lenders for you, saving you the hassle of visiting a bank.
Benefits of switching your mortgage provider
Although the main benefit is to save thousands of euros by getting a better interest rate, there are other many reasons why you should switch your mortgage provider. The benefits will vary depending on your situation and goals, but switching can help you:
Reduce your monthly repayments
Reduce your mortgage term
Release equity in your home – for a number of reasons, for example, to make improvements to your house
Overpay your mortgage & pay off your mortgage early
Avail of mortgage cashback offer
Guarantee your mortgage payments for a fixed term when switching from a variable rate.
Combine other loans into your mortgage to decrease monthly outgoings
How much could you save by switching your mortgage?
You could save a significant amount by switching. Some of our clients saved an average of €20,000 over the term of their mortgage.
Here is an example of monthly savings by switching from a 4% mortgage to the lowest rate available.
| | |
| --- | --- |
| Mortgage Amount | €250,000 |
| Term Remaining | 20 years |
| Equity | 20% |
| Interest Rate | 4% |
| Monthly Savings | €220 |
Another example is if you drop your interest rate by just 1%, it doesn't sound like a lot, but for a €250,000 mortgage over 25 years, switching from a 4% to a 3% mortgage would save you €129 per month, €1,547 per year and €38,692 in unnecessary interest. 
That €129 per month put into a savings plan over 15 years could pay for your child's first car or pay for your wedding anniversary holidays.
If you want to have an idea of what you could save by switching your mortgage each month, try out our Mortgage Switching Calculator. 
How do you find the best mortgage provider in Ireland?
Whether your mortgage is 20 years or more, choosing the right mortgage lender is very important, as small variations in rates and fees offered by different lenders can make a huge difference over the term of your mortgage. 
You can, of course, work directly with lenders such as banks and credit unions but that's tying you to a single provider, you don't do this with your car or home insurance, the same should be said for mortgages. 
Mortgage brokers such as ourselves work as an intermediary between lenders and borrowers. This gives us the ability to search for rates from multiple different mortgage lenders, finding you the best price and the mortgage that suits your needs.
There are several mortgage providers in Ireland to choose from and we work with all major lenders in Ireland, such as Avant, Haven, Permanent TSB, ICS (Dilosk), and Finance Ireland. Our partnership with these companies allows us to provide a mortgage rate and feature comparison.
How to switch your mortgage
Switching your mortgage can be a tricky process if you want to apply with lenders and banks directly, not to forget that some lenders don't deal with the general public, they are only available through a mortgage broker. So, you might not be able to get the best deal possible. 
Here at Low Quotes, we've made it simple due to our straightforward online application portal. You can upload your supporting documents, apply and get mortgage approval while you're relaxing on your couch or on the train on the way to work, instead of having to take a day off work to go to a bank. 
You only need to provide some quick details, book your appointment and we will give you a call. After your consultation, you will be provided a link to log in to your secure online mortgage portal to finish your application and upload your supporting documents, which will take an average of 10-20 minutes. Check how straightforward our online system is below: 
What else can I save when switching my Mortgage with LowQuotes?
We also compare every Mortgage protection provider in Ireland and implement a price match, price promise system, meaning our prices simply cannot be beaten, even by going directly to the provider. 
It's important to remember that if your current mortgage was taken out directly with a bank, they are tied agents with Insurance, so they won't tell you that you can get a better deal on your Insurance elsewhere.
Using our exclusive discounts – switching any Income Protection, Life Insurance, or Serious Illness Protection policies, you could be saving considerable amounts of money every month. 
Why Low Quotes?
Low Quotes is a market-leading online insurance broker in Ireland with a 5-star Google rating. We are proud to be awarded as Insurance Broker of the Year 2022 as the result of our team's dedication to providing market-leading independent advice and exceptional customer service.
We provide a wide variety of financial services such as Life insurance, Mortgages, Pensions, Financial Planning, Savings & Investments. If you have any questions about one of our services, feel free to contact us today.