Whether you are a first-time homebuyer, moving home, switching or remortgaging, or even if you're simply looking to save money on an existing mortgage protection policy; understanding mortgage protection insurance is essential to safeguarding your property and protecting your loved ones.
Our guide covers everything you need to know about mortgage protection insurance in Ireland, how it works, its benefits, and what to consider when choosing a policy. If you have any doubts contact our financial advisors who can help you make the biggest savings while also protecting your family.  
What is
Mortgage Protection Insurance
?
A mortgage protection insurance will pay off the outstanding balance of your mortgage if you or another policyholder dies during the term of the mortgage. If you have a joint mortgage, both people need mortgage protection insurance.
Example Calculation:
Your total mortgage is €270,000 over 30 years.
A mortgage protection policy needs to cover the amount of €270,000 over the 30-year term of the mortgage.
The cover decreases monthly in line with your mortgage. In the event of the loss of life of the insured, the mortgage will be cleared in full.
Do I need
mortgage protection insurance
for a mortgage in Ireland?
Yes, Mortgage Protection is an insurance policy that is compulsory in Ireland while taking out a mortgage on your principal primary residence (family home). 
When you take out a mortgage, your lender is required by law to ensure that you have this cover in place. However, a lender may agree to provide you with a mortgage without this protection if:
– You are buying an investment property
– You can't get cover, for example, due to a current serious illness, health problems, or dangerous occupation (you must provide two declined letters)
– You have life insurance already in place that covers the length and value of the mortgage
Exemptions are granted on a case-by-case basis, and even if you qualify for one of the above exemptions, the lender may require that you have mortgage protection in place before they approve your mortgage. 
Is
mortgage protection insurance
the same as life insurance?
One of the main differences between them is that Mortgage Protection insurance is designed to cover just your mortgage outstanding balance if you die. Life insurance policies, on the other hand, are mainly to protect you and your family, but also can be used to cover your mortgage.
Mortgage Protection
– Mortgage Protection pays out a lump sum if you die
– The amount of cover reduces over time
– Mortgage protection is cheaper than life insurance
Life Insurance
– Life Insurance pays out a lump sum if you die
– The amount of cover is fixed.
– Life insurance is more expensive than mortgage protection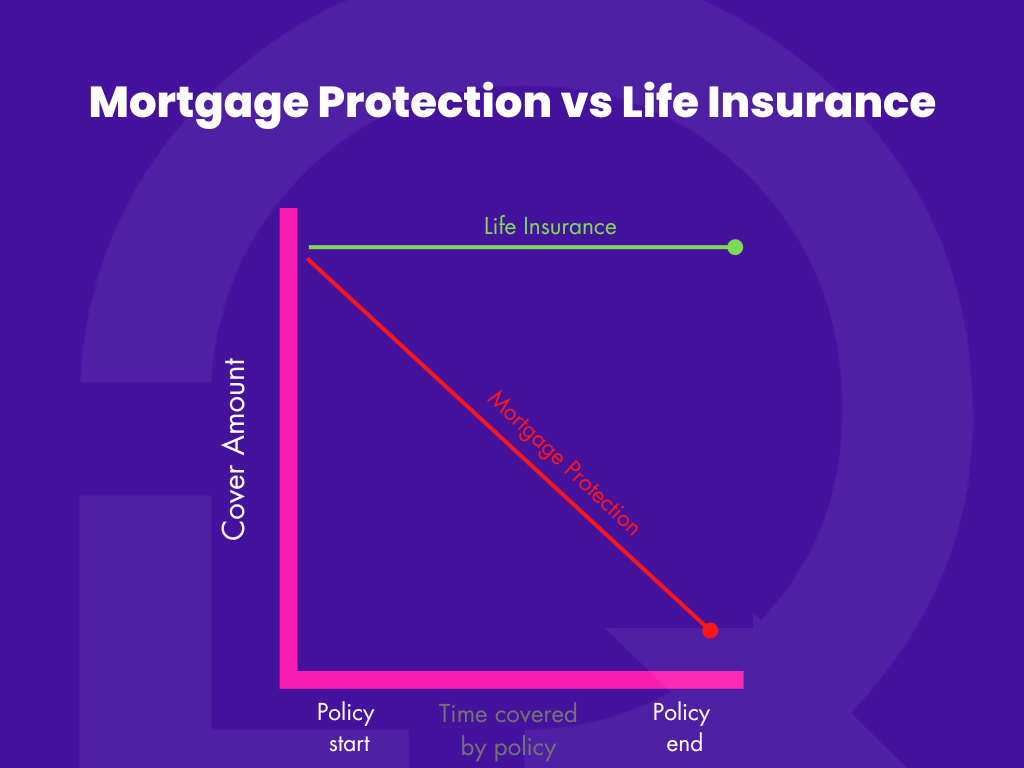 We have an article that goes over the differences between mortgage protection and life insurance in detail.
Do I have to buy
mortgage protection insurance
from my bank?
Prior to drawing down your mortgage, banks will usually offer you their own mortgage protection. By law, you are not required to obtain mortgage protection from the same lender or bank that is providing you with your mortgage.
Not purchasing mortgage protection from your bank will have no effect on your mortgage application, but it is often cheaper and faster to purchase mortgage protection elsewhere. This is because banks are tied to a single lender, they can only offer you one price for mortgage protection. 
Buying mortgage protection insurance from a broker like LowQuotes, on the other hand, can get you the best savings because we compare prices from multiple providers to find the best cover to suit your needs.
Can you change your
mortgage protection insurance
lender?
People usually purchase Mortgage Protection from their mortgage lender because it is convenient or because they are not aware they can shop around to find the best value option.
You can make huge savings by taking out mortgage protection through LowQuotes as we provide discounts of up to 30% on your mortgage protection. At LowQuotes, we compare life insurance policies from leading providers on your behalf.
It is important to research your options, compare the policies, free additional benefits, costs of different lenders, and seek advice from a financial advisor at LowQuotes to ensure that you are making an informed decision.
What happens with my mortgage protection if I want to top-up my Mortgage?
To ensure continued financial security in the event you consolidate your loan through a mortgage top-up or indeed extend your mortgage term for financial affordability, you will be required to restructure your mortgage protection policy. 
Your new premium is likely to be higher as you extend your cover over a longer term and because you may be older than when you took out your original cover, all of these factors need to be protected.
What is the difference between single, dual, and joint
mortgage protection insurance
?
Types of Cover
Single :
Getting a mortgage by yourself and taking out a single policy.
Joint :
This policy covers both you and your partner and will pay out in the instance that one policyholder passes away.
Dual :
The policy covers two people and pays out on both deaths, the first will clear the mortgage and the second will go to the family. This is the same price as Joint cover.
Where can you get Mortgage Protection quotes online?
LowQuotes is an online insurance broker and we compare all the insurance lenders available in Ireland, to find you the lowest price available and the best policy to suit your needs.
You only need to provide some details about yourself and you get a mortgage protection quote in 60 seconds. Or contact us on our free phone number 1800828800, we will be happy to help you give the best advice on what is the best policy for you.
How long does it take to take out
Mortgage Protection Insurance
with LowQuotes?
It won't take long at all with Lowquotes, as you can digitally sign your documents online. Meaning once you've signed, we submit your documents with urgency to your chosen Insurance provider and we could have you covered within 10 minutes; so you can then provide proof to your lender.
Additional Benefits of
Mortgage Protection Insurance
– Serious Illness Cover: Specified illness can be included in your mortgage protection cover in this instance clearing your mortgage in the same way that life cover would in the event of a claim for a covered illness.
– Children's Specified Illness Cover: Specified illnesses benefit for children aged 30 days or more and under the age of 21, or under the age of 25 if in full-time education.
– Children's Life cover: It is applicable for children who are aged 30 days or more and under the age of 21, or under the age of 25 if in full-time education.
– Terminal Illness Benefit: Life cover payment made if diagnosed with a terminal illness, as long as there are 12 months to go until the termination of the policy.
– Guaranteed Mortgage Insurability: When a client increases their mortgage or is in the process of extending their term for instance to a longer date. They can use this option to meet their life cover needs.
– Helping Hand (Royal London): second medical opinion
– Aviva Care: Best Doctors Second Medical Opinion, Bereavement Support, Digital GP and Family Care Mental Health Support.
The benefits above can differ depending on the provider.
How much does
mortgage protection
cost in Ireland?
The cost is on an individual basis and is based on the following:
– Amount of cover taken out (normally the mortgage sum affected)
– Term (fixed for the same term as the mortgage)
– Age
– Smoker / Non-Smoker
– General state of health
Extra Optional Benefits will also add to the cost:
– If Serious Illness Protection is chosen
– Rider Benefits in the form of Hospital Cash benefit, Accident Cash benefit, Surgical Cash benefit
Have a look at our article comparing the cost of Mortgage Protection & Life insurance.
Mortgage Protection Insurance Cost 
Example
Age:30 years
Amount: 250,000
Term: 20 years
Non-smoker
Try out our mortgage payment protection calculator
We provide a straightforward Mortgage Protection Calculator so you can compare several life insurance providers and determine the cost of your premium based on your personal details, such as age, policy term, etc.
If you have any doubts about mortgage protection insurance please feel free to contact us, we are more than happy to find you the best price and conditions to suit your needs.
Compare mortgage protection policies with LowQuotes
LowQuotes is a market-leading online insurance broker in Ireland with a 5-star Google rating. By purchasing mortgage protection insurance through LowQuotes you're able to save up to 30% as we compare mortgage protection from various providers to find you the lowest quote. 
We have access to every life insurance company on the market allowing us to get you the most suitable and most competitively priced policy on the entire market. We work with Zurich, Aviva, Royal London, Irish Life, and New Ireland. And the best thing is, you can do it all from the comfort of your home!
We also provide a wide variety of Financial services such as Mortgages, Life Insurance, Mortgage Protection, Pensions, Financial Planning, and Savings & Investments. If you have any questions about one of our services, feel free to contact us today.