The first reaction after being diagnosed with cancer is often shocking. The impact of a cancer diagnosis on a person's life can be overwhelming causing emotional, physical, and financial distress.
While we all hope and often believe it won't happen to us, the reality is that people throughout Ireland are affected by unexpected illnesses every day. Unfortunately, every year almost 45.000 people in Ireland are diagnosed with cancer, making Ireland the country with the highest cancer incidence in Europe.
Adding a specified serious illness to your life insurance or mortgage protection or even buying a standalone serious illness policy will give you and your family peace of mind as you know your finances won't be at risk; and you will be able to pay for hospital bills, expensive treatments in addition to your regular expenses.
What is a specified
serious illness cover
in Ireland?
Specified serious illness cover in Ireland is a type of insurance policy that provides a lump sum payment that enables you to take care of yourself and your family if you are diagnosed with a life-threatening illness that is covered and defined under the policy conditions, examples would include some cancers, heart attack, or stroke.
This money can be used to cover things such as medical expenses or household bills. The illnesses covered and the amount paid out will vary depending on the policy and the insurance providers. We compare the prices of all providers in Ireland, and with the highest discounts available, you simply can't get a better deal elsewhere.
Buying a standalone
specified serious illness
or adding accelerated serious illness to your life protection cover
You can buy serious illness cover as an extra benefit on a life insurance or mortgage protection policy. Or you can buy serious illness as a separate policy. 
Standalone serious illness cover means it is taken out as a separate policy and it is completely independent of any life protection you might purchase or already have. It is also sometimes called additional cover, separate cover, or double cover.

If you are adding serious illness cover to your mortgage protection or life insurance when the payment is made the life cover amount is reduced accordingly. It is also called an accelerated serious illness cover.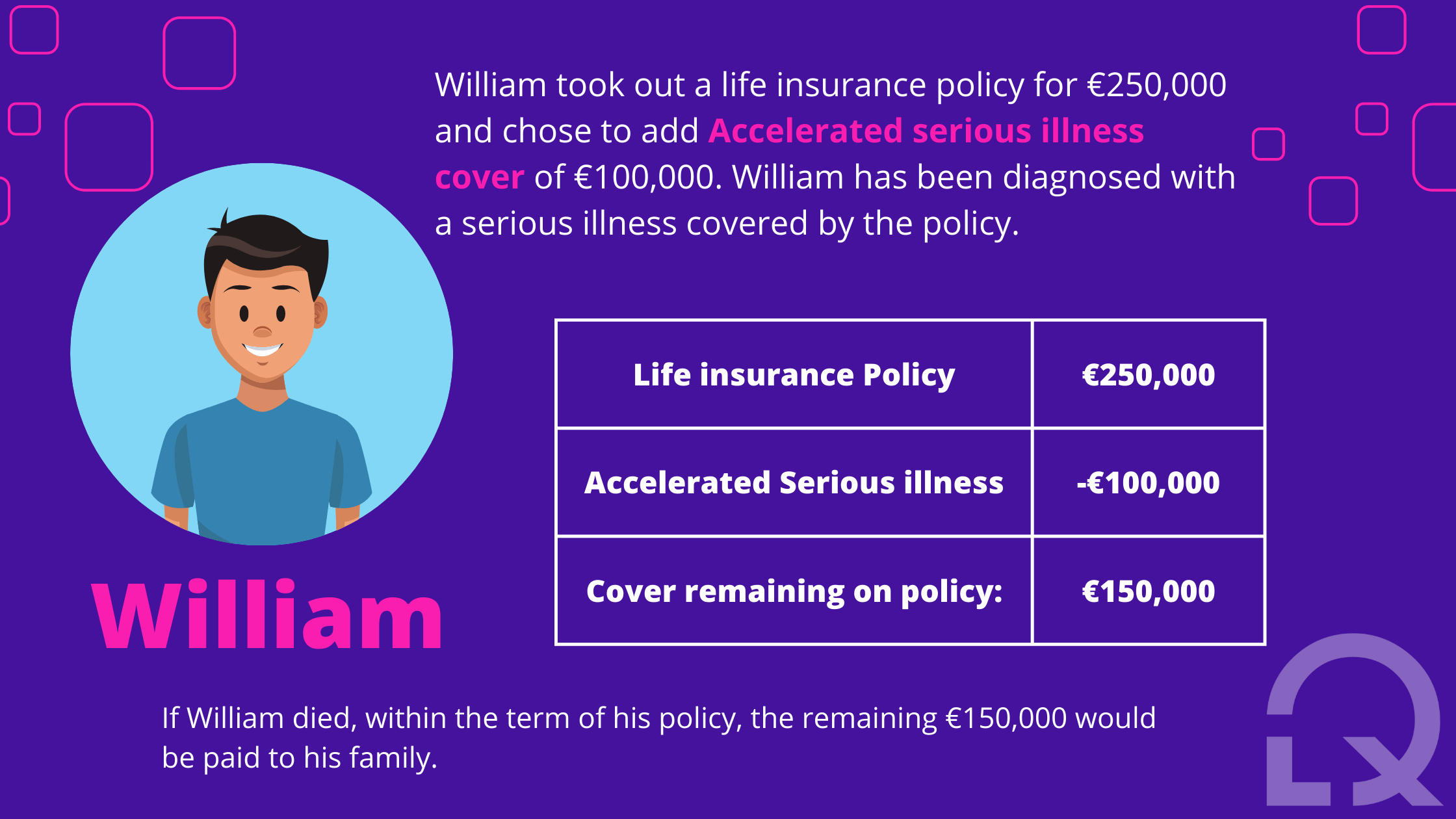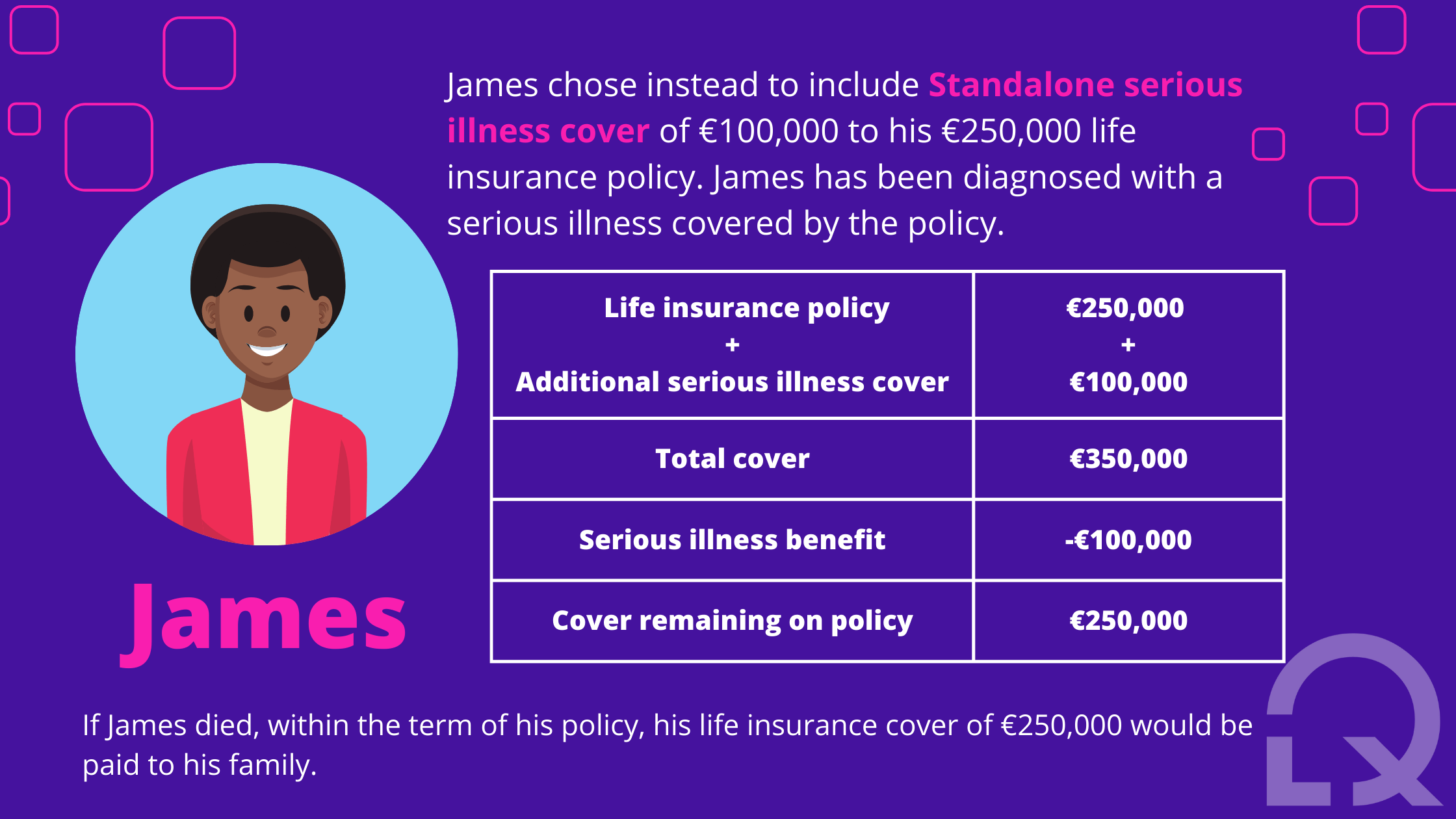 How much does
specified serious illness
cover cost?
The price of specified serious illness in Ireland can vary depending on a number of variables, including the individual's age, health condition, the desired level of coverage, and the kind of policy. 
Keep in mind that there are many different types of specified serious illness insurance policies available.
Standalone Serious Illness: Serious illness cover only.
Life Insurance with Accelerated Serious Illness: your life insurance would be reduced by any amount paid under Accelerated Specified Illness Benefit.
Life insurance with Standalone Serious Illness: your life insurance stays the same regardless of any amount paid under Specified Illness cover. This cover is more expensive than the accelerated cover.
The best way to determine the cost of specified serious illness cover in Ireland is to speak with LowQuotes. We can help you understand your options and find a policy that is right for you and your budget.
Once accepted, the cost of your cover will never increase during the term of your plan, that's why it's important to purchase a serious illness policy as soon as possible when it is cheapest.
Age: 25 years old
Male – Non-smoker
Term: 30 years
Life Insurance cover: €250,000
Serious Illness cover: €100,000
Date of the quote: February 2023
| | |
| --- | --- |
|   | Average Premium |
| Standalone Serious Illness | €27.35 |
| Life Insurance + Accelerated Serious Illness | €35.32 |
| Life Insurance + Standalone Serious Illness | €40.36 |
What percentage of
specified serious illness
claims are for cancer in Ireland?
Back in 2018 according to Irish Life's annual report, the main cause of Life Insurance pay-outs in 2018 was Cancer. Unfortunately, this scenario hasn't changed and cancer is still the main reason for specified serious illness claims in 2021.
As stated by Irish Life, 61% of the specified Illness Cover claims paid was Cancer. The main cause for men was Prostate Cancer (54%) and Breast Cancer for women (46%).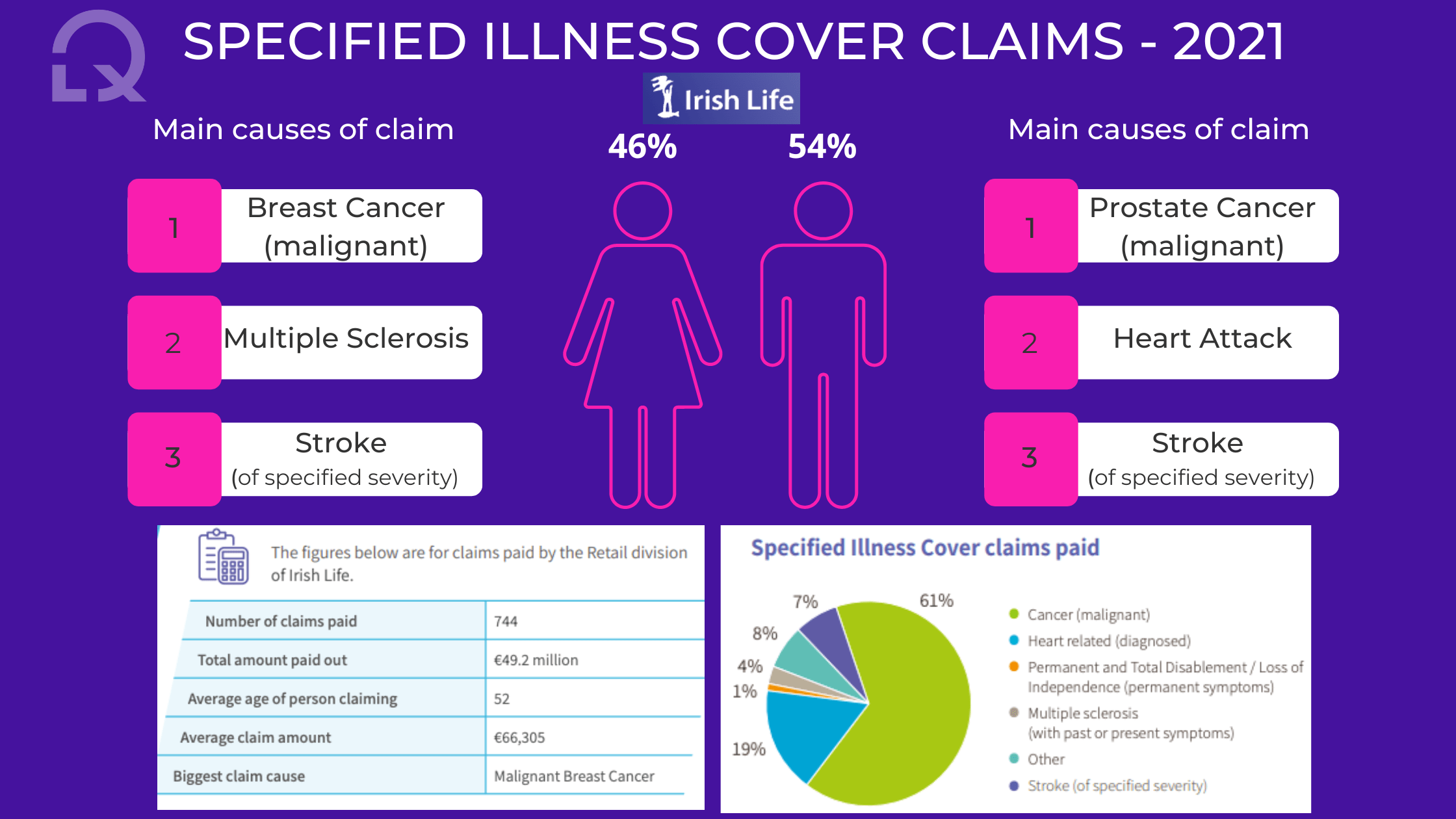 According to Aviva report 2021, cancer is the main cause of claims for serious illness cover for women. For men is the second illness most claimed, below cardiac diseases only. The average age of claims is 56 for men and 52 for women.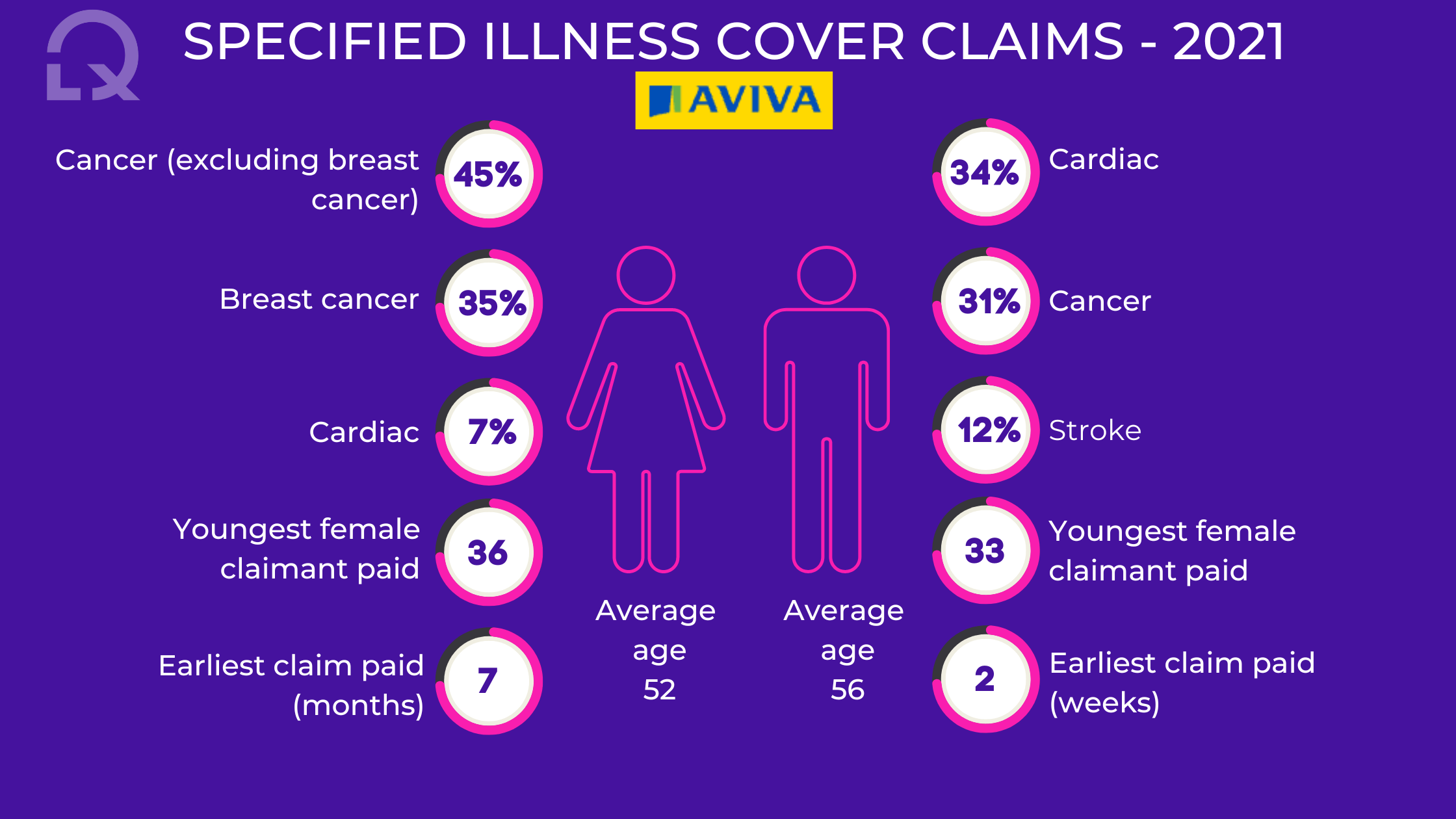 The financial impact of cancer
Losing the ability to work, or having a loved one suffering from an illness, can be devastating to a family. Irish cancer society report, the average loss in the income of cancer patients is €1,527 per month or €18,323 per year. Also, the average additional cost associated with a cancer diagnosis is €756 per month, this can rise in some cases to over €1,000 per month.
Here are some stats of the report:
Over 3 in 5 of all workers said their incomes decreased as they could not work as much as before their cancer diagnosis.

2 in 5 respondents had reduced their salary by over €20,000, with an average reduction in excess of €18,323 per year equating to around €1,527 per month for those experiencing a reduction in income.

3 in 4 (75%) changed their work practices in some way, with 45% stopping working and 24% reducing their hours as a result of their cancer diagnosis.

Only 15% had income protection in place at the time of diagnosis. Meanwhile, 12% tried to get income protection since diagnosis with only one in ten of these being successful.

The impact of cancer was also felt by carers with one in two (45%) changing their employment status. Meanwhile, over one in three took unpaid leave or worked fewer hours (37%).

The average cost of medicines and medical expenses was just over €261 per month.
Is cancer covered in specified serious illness insurance?
Serious illness insurance policies in Ireland typically cover a range of cancers, providing full payment for advanced cases with more severity. For less advanced cases of cancer, the lender might provide partial payment.
It's important to keep in mind that various insurance companies can have varying definitions and standards for what qualifies as a serious illness, and not all policies might cover all types of cancer.
Before buying an insurance policy, it's important to determine which kind of coverage is best for you. At LowQuotes, we can evaluate several lenders to ensure that you get the best deals and the coverage that best suits your needs.
Why should I get
serious illness cover in Ireland
?
We understand the challenges people can face as they deal with life-changing events. That's why we are ready to give you the best advice, making sure you have the relevant protection in place. A debilitating illness can strike anyone at any time and choosing the right protection will safeguard you and your family's future.
Serious illness cover provides financial support to people who have been diagnosed with a serious or life-threatening illness. The key benefits of this type of insurance include
Financial security: The policy pays out a lump sum if you are diagnosed with a covered illness or condition, which can help cover medical expenses, loss of income, and other costs related to the illness.
Peace of mind: If you and your family have adequate insurance coverage in the event of a serious illness, you may be able to avoid financial hardship.
Flexibility: A policyholder can use a life insurance policy's lump sum payout in any way they wish, including paying off debts, covering living expenses, or paying for specialized medical treatment.
Early diagnosis: Some serious illness insurance policies provide earlier diagnoses, helping to catch illnesses sooner and improving the chances of a full recovery.
Supplementing health insurance: Health insurance might not cover all costs associated with a serious illness. Specified serious illness insurance can fill this gap.
The importance of having specified serious illness protection – Case study
Sometimes when we hear about life protection it can be very abstract as we can't know for sure what the future will bring. The case study below demonstrates that real life is unpredictable but if you have the right protection in place you will assure financial security for you and your family.
In 2020, Client X, 30 years old, contacted LowQuotes to get a Mortgage Protection quote. 

Client X was going to pay around €10.00 for your mortgage protection for the term of 35 years as this was the cheapest plan available on the market to cover a mortgage.

Although Client X was healthy, in the past this client had a benign breast lump.

After analysing the client's situation, one of our award-winning advisors suggested adding serious illness cover to the mortgage protection policy. 

Client X ended up purchasing Mortgage protection with a specified serious illness cover, paying around €30.00.

14 months after Client X signed up for the policy, client x was diagnosed with breast cancer and received around €80,000 from the policy.
What should I do if I've been declined the
specified serious illness
cover?
If you've previously been denied Serious Illness Protection owing to particular health concerns, cancer coverage might be the best option for you. Cancer Cover is offered by Zurich and is different from traditional serious illness plans because it focuses solely on cancer; therefore, it costs less than serious illness protection.
Cancer-only insurance policies normally pay out a lump sum of money if the policyholder is diagnosed with cancer as defined in the policy, which can be used to pay for medical expenses, make lifestyle adjustments, or cover other costs associated with the illness.
Most of the severe forms of cancer would ordinarily be covered, such as:
Breast Cancer

Lung Cancer

Bowel Cancer

Gynae Cancer

Stomach Cancer
With Cancer Cover, Zurich also provides partial payments for less severe, more treatable types of cancer. These ordinarily include:
Testicular Cancer

Early Stage Bladder Cancer

Low-Level Prostate Cancer

Cancers in situ
How much does Cancer Only cover cost?
Overall, cancer-only insurance can be an important consideration for individuals who want to ensure that they and their families are financially protected in the event of a cancer diagnosis. 
It's a small amount that can provide peace of mind to you and to your family, allowing policyholders to focus on their health and recovery instead of concerning about if they would have enough money to cover all the costs associated with their illness.
Age: 25 years old
Male – Non-smoker
Term: 30 years
Cancer Only Cover: €100,000
Date of the quote: February 2023
| | |
| --- | --- |
|   | Average Premium |
| Cancer Cover Only | €17.07 |
We've got you covered at LowQuotes
Low Quotes is an award-winning market-leading online insurance broker in Ireland with a 5-star Google rating. We compare all the companies available in Ireland, with the highest available discount to find you the best price policy to suit your needs.
Our serious illness comparison service lets you easily compare prices and benefits across all of Ireland's main insurance providers. Whether you'd like a standalone or accelerated policy, we are able to search a wide range of policies across multiple lenders and find the best price for you.
We also provide a wide variety of Financial services such as Mortgages, Pensions, Financial Planning, Savings & Investments. If you have any questions about one of our services, feel free to contact us today.