Life insurance may be a challenging and complex topic for many people, with a range of policies, cover options and difficult terminology to understand.
We put some most frequently asked questions about life insurance to help you understand the basics of it, whether you're thinking about purchasing a policy or are simply trying to understand your existing coverage.
What is life insurance, and how does it work?
Life insurance is a contract between an insurance company and a policyholder that commits the insurer to paying a specific beneficiary a sum of money in the event of the policyholder's passing. To keep the coverage in place, the policyholder must pay a regular premium.
How much life insurance do I need?
In order to help you plan for your family's financial stability, it's crucial to make sure you have the appropriate cover amount in mind. The amount of life insurance you need depends on several factors, such as your income, debt, and the number of dependents you have. A general rule of thumb is to have coverage that is ten times your annual income.
We discuss this in more detail in our article showing other ways to calculate the life insurance cover amount more suitable for your family's needs as well as how to calculate life insurance cost.
What's the difference between life insurance and mortgage protection? 
Both policies pay out a lump sum in case of the death of the policyholder, however, there are important differences.  
One of the main differences between them is that Mortgage Protection insurance is designed to cover just your mortgage outstanding balance if you die. Life insurance, on the other hand, is mainly to protect you and your family, but also can be used to cover your mortgage.
Another distinction is that as the balance on the mortgage decreases each month, the cover for mortgage protection also decreases. With life insurance, this doesn't happen; the cover stays the same.
If you want to learn more we have an article that clarifies the distinctions and unique characteristics of each one. 
What is the average life insurance payout in Ireland?
Reports released by Aviva for the years of 2020, 2021 and 2022 demonstrates that the average of payouts in Ireland is around 97%.
There is a misconception that life insurance providers don't pay out, but recent reports show this is not true. Reports released by Aviva for the years of 2020, 2021 and 2022 demonstrates that the average of payouts in Ireland is around 97%.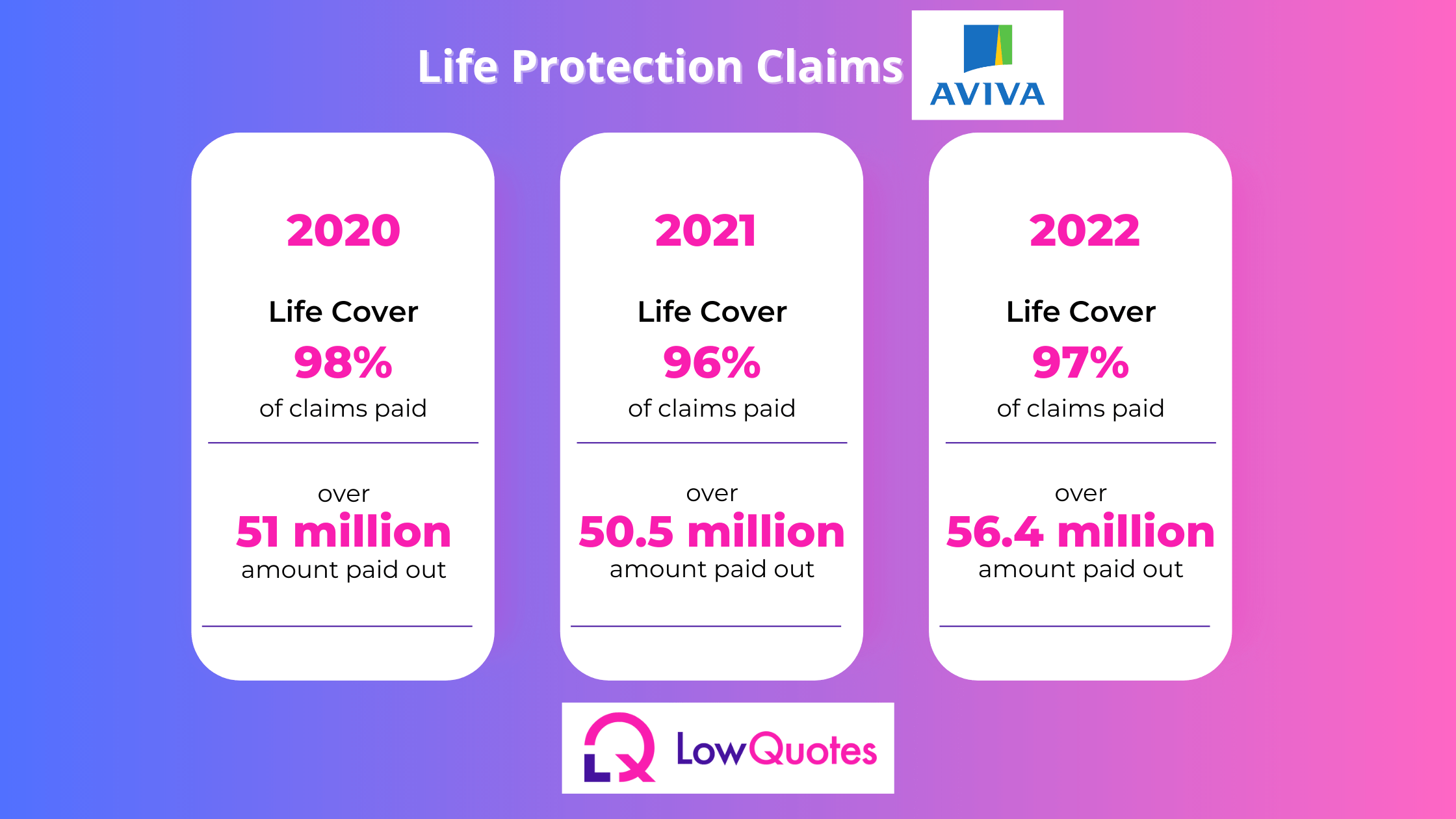 Does life insurance payouts taxable in Ireland?
All payouts from life insurance are tax-free which can help your beneficiaries avoid any potential tax liabilities.
While the life insurance payment itself is tax-free, some beneficiaries may have to pay inheritance tax depending on their relationship with you. For example, there is no tax liability between married couples/civil partners. On the other hand, cohabiting couples with dual or single policies would have to pay inheritance tax as they would be seen as "strangers" in the eyes of Revenue.
We can tailor a policy for cohabiting couples that is not subject to inheritance tax. Contact one of our Qualified Financial Advisors and we are more than happy to help you make an informed decision and have peace of mind.
How long does it takes for a Life Insurance claim payout?
The length of time it takes to pay out a life insurance claim in Ireland can vary based on a number of variables, including the complexity of the claim, the type of policy, the amount of coverage, and the life insurance provider's procedures.
In general, once a claim has been filed, all the necessary documentation received and accepted by the insurer you can expect the payment usually between 4 to 6 weeks. Some claims might be more complex and it can take longer to process them.
Who needs life insurance?
Life insurance is important to anyone who has dependents, such as children or a spouse. It can provide financial protection for loved ones in the event of the policyholder's death.
If no one is financially dependent on you, you should think about income protection or serious illness. Both are designed to offer financial protection in case of unexpected events that can impact your ability to work and earn a living.
Learn more reading our Guide answering the top questions about Income Protection Insurance.
How much does life insurance cost?
The cost of life insurance can vary depending on several factors, such as your age, health, lifestyle, occupation, and the type and amount of coverage you need. Generally, younger and healthier people pay lower premiums than older or less healthy individuals.
LowQuotes offers up to 30% discount online and you can get covered from €2.30 per week. Get your quote in 60 seconds here.  
Can I change my life insurance policy?
Yes, you can change your life insurance policy. It is worth reviewing your policy periodically because life circumstances change. 
However, it's not like a car or health insurance where you can switch the same cover to a new provider. When you change life insurance you have to start over from scratch with a new application.
You can get a quote in 60 seconds and compare the prices of the best Irish life insurance providers. It's always best to talk to one of our advisors to understand the potential impact of any changes you may want to make to your policy.
What happens if I miss a premium payment?
Your policy may lapse and you will no longer be covered if you fail to pay your premiums on time. However, a grace period may be provided by some policies for missed payments, allowing you to catch up on the bill without compromising your coverage.
Can I name more than one beneficiary on my life insurance policy?
Yes, you can list more than one beneficiary on your life insurance policy. You can also specify which percentage of the death benefit goes to which beneficiaries.
Get a life insurance quote today with LowQuotes
No matter what your doubt is about life insurance, we are here to help you find the best cover to protect you and your family. 
Low Quotes is an award-winning market-leading online insurance broker in Ireland with a 5-star Google rating. We compare all the companies available in Ireland, with the highest available discount to find you the best price policy to suit your needs.
By purchasing your life insurance with LowQuotes you will get the lowest price online because we provide discounts that aren't even available to other brokers.
We offer up to a 30% discount and you can get a Free 'Will Kit' worth €120, and €50 Cashback on policies over €30 p/m. You can read more about the benefits of using a broker to get life insurance quotes in our article.
If you want to purchase other types of insurance like Serious Illness, Mortgage Protection, Income Protection, Multiclaim Protection cover, Cancer Only cover, Whole of Life Insurance, or Over 50s Life Insurance, contact us and we guarantee the cheapest price available on the Irish market.