Remortgaging is the process of getting a new mortgage on the house you currently own, to pay off the existing mortgage and replace it with a mortgage that has more favourable terms; for example, to reduce your interest rate or even lower your term, with the added advantage to borrow additional money against your property (this is known as an equity release). You can negotiate a new deal with your current lender or start again with a new lender.
It means that you'll stay in your existing home and use the equity you have in the property as security for the mortgage. You might want to raise some money for home improvements, debt consolidation, release equity, pay for education or other once off life events be they expected or unexpected, or simply avail of lower rates.
Here are some of the most important benefits of remortgaging in case you are still unsure.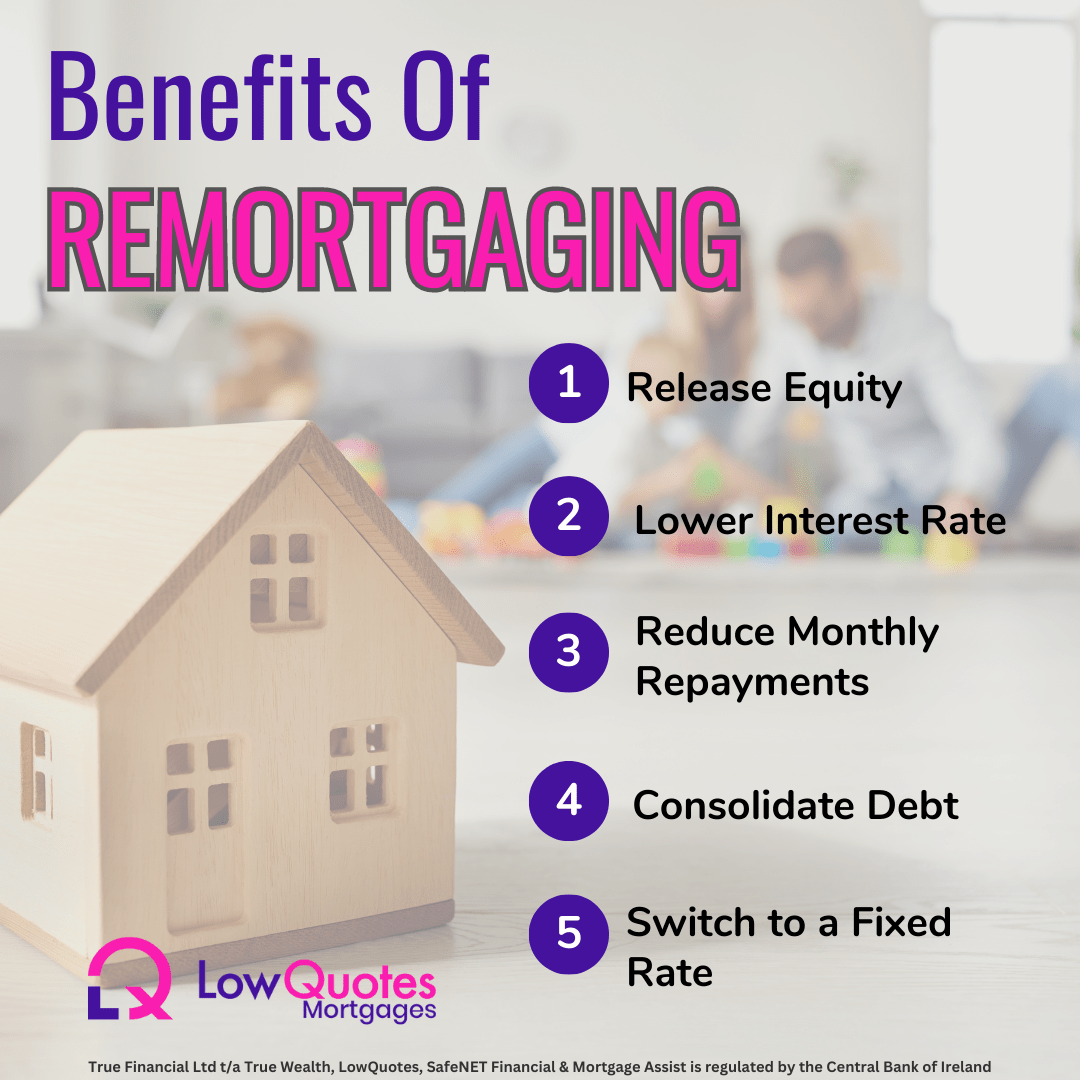 Remortgage to Release Equity 
Imagine the following scenario: you have a lovely house but you lack the extra money to build an extension, pay for your children's education, or consolidate your loans in order to reduce your overall monthly payment, etc. 
If you're in need of extra cash but don't want to sell your house, remortgaging can be a viable option. By remortgaging, you can release equity in your property and access the money you need without selling your home.
If the value of your home has increased since you purchased it, remortgaging allows you to access the equity you've built up. By refinancing your mortgage for a higher amount, you can release a lump sum of cash.
When compared to borrowing through other ways, making use of your equity may allow you to save money as you may potentially pay less in interest.
Lower Interest Rates
One of the main reasons people choose to remortgage is to secure a lower interest rate by fixing their mortgage rate. 
Remortgaging could save you a significant amount of money if you are on a variable rate so if you haven't remortgaged yet you're potentially paying more than you need to.
If you have a variable rate mortgage or a tracker mortgage, the ECB interest rates might have a major impact on your mortgage repayments. This is because the interest rate on these types of mortgages is usually linked to the ECB rate, which means that any changes in the ECB rate will be reflected in your mortgage rate. In other words, your mortgage rate will rise if the ECB raises interest rates, which would result in increased mortgage payments.
ECB Interest Rates – April 2022 to June 2023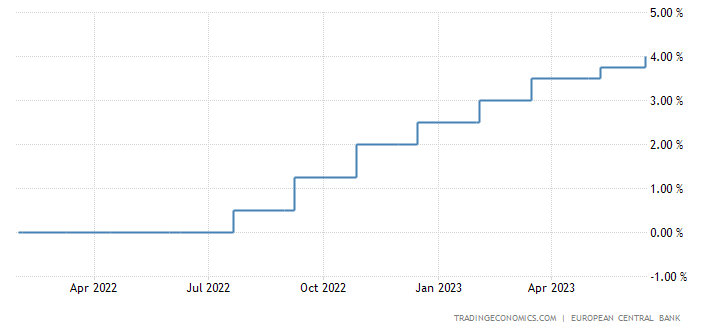 The European Central Bank raised its key interest rates by 0.25% during its May meeting, and borrowing costs have now reached their highest level since July 2008. The ECB has raised rates seven times in a row in an effort to tackle excessive inflation despite remaining recession fears.
At the latest ECB press conference, President Christine Lagarde stated that the ECB still has work to do and would not be stopping its cycle of rate increases any time soon. 
The main lending rate is estimated to reach 4.25% by July 2023 after the most recent rise, which raised it to 4.00% in June 2023.
If you are on a variable rate or even potentially a tracker rate there is no better time than now to refinance your property to the lowest rate available to you. By remortgaging you could switch to a better deal with lower interest rates and lower monthly repayments and avoid further imminent rate increases by the ECB and lenders.
For example, if you have a mortgage of €300,000 with a 4.5% fixed rate for 4 years and 20 years left to run, your monthly repayment would be €1,897. The cost over 4 years would be €91,072 and €455,359 over the full term of your mortgage.
If you decide to switch your mortgage to another provider with an interest rate of 3.25% you would be saving €195 per month, €7,388 over 4 years, and €46,938 over the full term of your mortgage.
If you want to know more contact us and we will be happy to help you to give you the best advice on how to remortgage and save.
Reduced Monthly Payments
Reducing monthly payments through remortgaging can be a successful strategy for homeowners looking for more manageable mortgage liabilities. By refinancing your current mortgage, you can potentially secure a new loan with improved terms, interest rates, or extended repayment periods. 
This can provide your finances an immediate boost and free up cash flow for other expenses or financial objectives.
Before proceeding with remortgaging, it's important to carefully consider all related costs, such as arrangement fees, legal fees, and potential early repayment penalties on your current mortgage. Also, take into account how any extended repayment terms would affect the overall cost of repaying your mortgage. 
Our mortgage advisors can provide valuable insights and help you determine if remortgaging  to reduce monthly payments is the right choice for your financial situation.
Debt Consolidation
Remortgaging can offer an opportunity to consolidate other high-interest debts, such as credit card balances or personal loans, into your mortgage. 
You can take advantage of a cheaper interest rate compared to the rates on those other loans by combining these debts into a single mortgage loan. Consolidating debt can simplify your finances and could end up saving you money in interest payments over time.
Debt consolidation through a remortgage could help you if you're finding it difficult to stay on top of things as they are and could help you get out of a difficult financial situation.
Switching to a Fixed Rate
If you currently have a mortgage with a variable interest rate or tracker interest rate, remortgage can enable you to switch to a fixed-rate mortgage. This provides stability and protection against potential interest rate increases in the future. 
Even if you have a fixed-rate mortgage, if the duration is shorter than three years, you should probably think about refinancing to get a longer fixed-term mortgage with a five-year or longer term.
By securing a fixed-rate mortgage, you will be able to better manage your finances as you'll know your monthly mortgage payments won't change during the fixed-rate period.
It's important to consider that remortgaging may involve fees and charges, such as early repayment fees or arrangement fees. It's important to evaluate these costs alongside the potential savings to ensure that remortgaging is the right decision for your specific circumstances. 
Why Should I Remortgage with LowQuotes
Low Quotes is a market-leading online Mortgage broker in Ireland with over 775 5-star Google ratings and 25 years of experience. We are proud to be awarded as Insurance Broker of the Year 2022 as the result of our team's dedication to providing market-leading independent advice and exceptional customer service.
As a broker, we understand the importance of finding the best interest rates for you to remortgage. Our expertise lies in helping homeowners navigate the mortgage market to secure competitive rates and favourable terms. 
Contact us to take control of your finances and make the smart decision to remortgage and save.