People insure everything in their lives, from their cars to their homes, their income, and their businesses. But are you insured? What if something were to happen to you? Would your loved ones be able to keep up with the cost of living?
Life insurance pays out a tax-free lump sum if you die during the term of the policy. The main purpose of life insurance is to provide financial support and security to your loved ones or dependents in the event of your premature death. 
The beneficiaries can use the payout from the life insurance policy to cover various expenses, such as funeral costs, outstanding debts, mortgage payments, and daily living expenses, or even to provide long-term financial stability for the family, which is a priority for parents and guardians.
It's important to find the policy that is best suited for you, ensuring peace of mind for your loved ones to maintain their lifestyle if the worst should happen. Each life insurance product from every Irish provider is different in its own way, offering a variety of additional benefits.
Speak to one of our qualified financial advisors at LowQuotes about the best policy plan for you. We start by comparing all providers in Ireland and reply to you in a matter of minutes over the phone or even online on all your options available.
Types of Life Insurance:
Term Life Insurance:
Term life insurance provides a lump sum payment to you and your family in the event of death. This type of life insurance applies to a specific fixed term, after the term has ended and no claim is made, the policy will cease.
Whole of life Insurance:
Whole of life insurance will insure you for your entire life, continuing up until the event of your death. In most cases, this type of life insurance will cost a considerably higher amount than other products as there is a guaranteed payout.
Convertible Life Insurance:
Provides a tax-free lump sum payment to your loved ones in the event of your death. Term insurance is similar to convertible term insurance but has a different advantage. The policyholder has the opportunity to convert the coverage provided by the policy into a new, longer-term policy without the covered person having to go through a medical exam or provide proof of good health at the time of the conversion.
To gain a deeper understand of Convertible Life Insurance, read our article here.
You can also change the policy to a "Whole of Life" policy, guaranteeing you life insurance for the rest of your life.
Mortgage Protection:
If you pass away before paying off your mortgage in full, mortgage protection insurance will cover the remaining balance. Read more in our post with the most frequently asked questions about mortgage protection and the myths surrounding mortgage protection.
Life Insurance – Types of Cover
Single :
Getting a quote by yourself and taking out a single policy
Joint :
This policy covers both you and your partner and will pay out in the event that the first of the two policyholders passes away, the policy will then cease.
Dual :
Dual cover will pay out after the death of the first policyholder and will also pay out after the passing of the second policyholder to the family of the deceased. We recommend this over the joint, as it comes free of charge.
Life insurance Providers
There are a host of life insurance providers in Ireland, including:
Each insurer will have its own terms for life insurance products. You pay a monthly premium based on your occupation, age, and health status. An advisor here at LowQuotes will inform you of the required personal information.
Do I need Life Insurance?
Anyone with dependents, such as children or a spouse, should have life insurance. In the event of the policyholder's passing, it may offer loved ones financial security.
We've prepared an article that addresses the most commonly asked questions regarding life insurance. Click here to read it.
If no one is financially dependent on you, you should think about income protection or a serious illness policy. Both are intended to provide financial protection to you, when you are alive in the case of illness or accident that can impact your ability to work and earn a living.
Learn more by exploring our in-depth guide, which answers the most frequently asked questions regarding income protection insurance.
Or read our comprehensive guide to serious illness insurance for further details.
Avoid myths about life insurance
There are many false beliefs about life insurance in Ireland, which eventually discourage people from considering it as a viable alternative. In order to help you decide if life insurance is appropriate for you or not, we've compiled five typical myths and misconceptions about it.
And if you recently took out a mortgage and are considering buying Mortgage Protection, be aware of a few myths about Mortgage Protection that may lead you off track.
When do I take out a Life Insurance Policy?
Financial planning may not rank high on the priority list for individuals in their 20s or 30s. With various demands such as establishing a career, pursuing higher education, or starting a family, the long-term aspects of financial planning can easily be overlooked.
Taking out life insurance is a crucial step in securing the financial well-being of loved ones in the event of a premature death.
The best time to purchase a life insurance policy is when you're young and healthy. This is because life insurance premiums are generally lower for younger and healthier individuals. By obtaining a policy early on, you can lock in more affordable rates and potentially save money in the long run.
It's important to note that as you get older, the cost of life insurance tends to increase significantly. This is because the risk of mortality increases with age, making it more expensive for insurance companies to provide coverage. 
Certain types of policies may have a maximum age limit for initial purchase, and this depends on the insurance provider or type of insurance.
Usually an individual can take out a policy up to the age of 74 for Whole Life Insurance, 82 for Term Life Insurance, and 64 for Serious Illness Protection. The lump sum can assist you in paying off the debts you owe, covering expensive loans, mortgage repayments, and funeral expenses.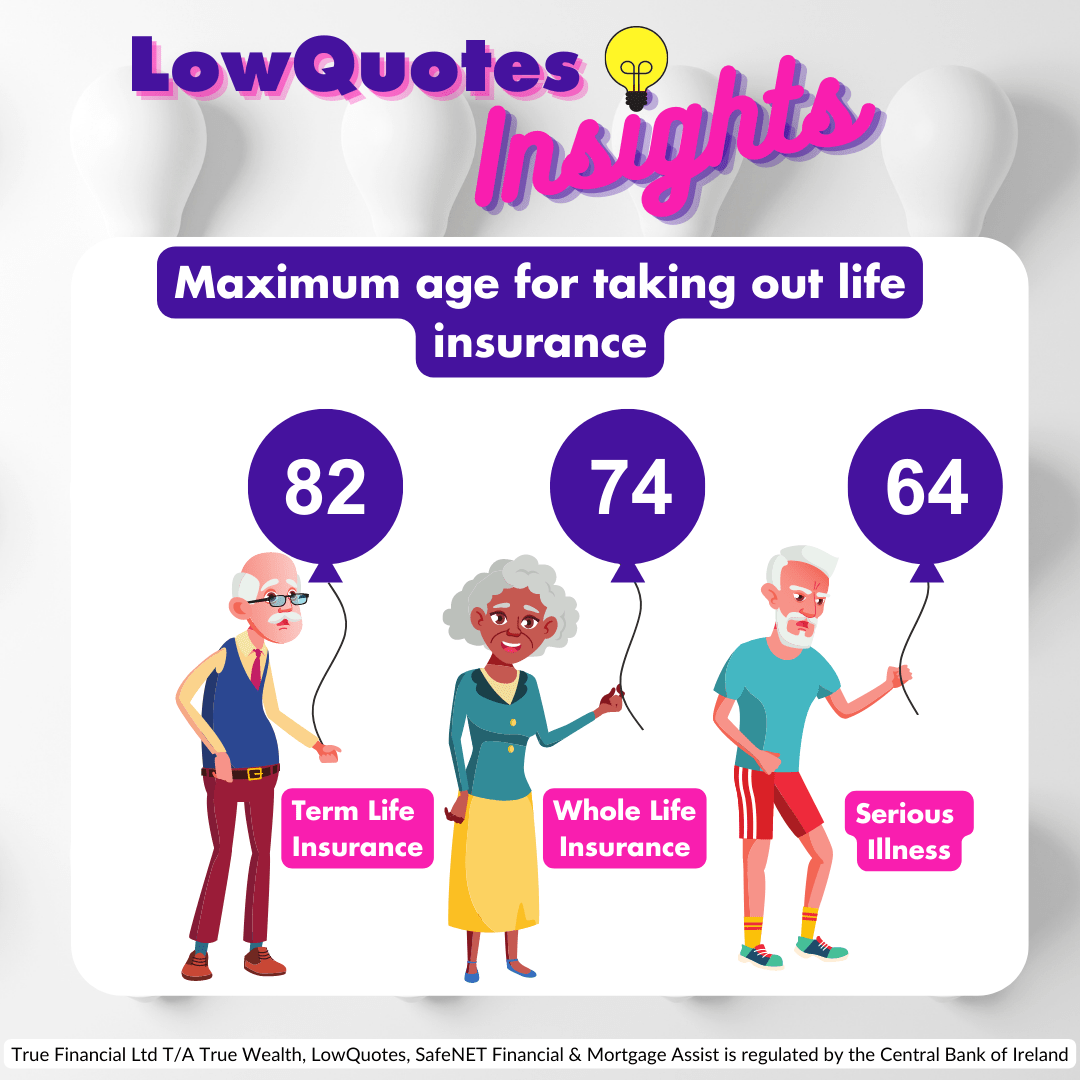 If you are considering life insurance and are approaching the upper age limits, it's advisable to contact one of our financial advisors to inquire about their specific policies and any age restrictions or limitations they may have. We can provide guidance on the available options based on your age and individual circumstances.
Life Insurance – Additional Benefits
With Life insurance, you have the opportunity to avail yourself of many benefits. Individual insurers offer unique versions of each benefit.
Hospital Cash Benefit
Payment is made if you are hospitalised for more than 72 hours. The cover can range between €30 – €300.
Guaranteed Increase Option
A policyholder has the option to increase their coverage without providing evidence of their current health conditions. The provider's terms & conditions vary, contact LowQuotes to get a better grasp on the benefit.
Funeral Expenses/ Accelerated Payments
Funeral expenses of up to €10,000 are paid. Read more about the terms and conditions explained by Royal London here.
Monthly Income on Death
In the event of a death, a monthly benefit with a minimum amount of €5,000 is spread over the term of the plan. This benefit must be selected from the outset.
Terminal Illness Benefit
This benefit is paid out to the client if he is diagnosed with a terminal illness during the remaining 12 months of the policy.
Medical 2nd Opinion
Best Doctors Second Medical Opinion (Aviva). Helping Hand (Royal London)
Aviva Family Care
Unique to Aviva, it offers completely confidential mental health support services. Click here for more information.
Children's Life Cover
Payments are made out of up to €7,000 in the event of the insured child's death. The maximum age at which a claim can be made is up to 18 years old, or 25 if they are in full-time education.
Get a Life Insurance Quote in 60 seconds
If you are not sure how much cover you need, have a look at our article to make informed decisions.
To get a life insurance quote, fill in some quick details, such as how much cover you require and the term of the policy, and you'll receive a quote comparing the prices of the best life insurance providers in Ireland.
Our life insurance calculator is straightforward to use, you only need to add your personal details, and you will get a quote in 60 seconds. 
If you wish to combine Serious Illness with your life insurance, the best way to determine the cost of it is by speaking with us. We can help you understand your options and find a policy that is right for you and your budget.
Life Insurance with the best broker in Laois
It's important to keep in mind that the specific details and terms of Life Insurance policies can vary, so it's important to carefully read and understand the terms and conditions before purchasing a policy. 
LowQuotes is a market-leading online insurance broker in Ireland, with a 5-star Google rating and over 800 Google reviews. 
Using a broker like ourselves, you will be able to navigate the complex and confusing jargon used in the life insurance industry. Also, you will save time and effort as we research different insurance providers to find the lowest price with the best conditions that suit your needs.
By purchasing your life insurance with LowQuotes, you will get the best price online because we provide discounts that aren't even available to other brokers. We offer up to a 30% discount, and you can get a Free 'Will Kit' worth €120 and €50 Cashback on policies over €30 p/m.
For more information on the advantages of buying life insurance through a broker, read our article.