The harsh reality is that life can surprise us with unexpected challenges. The impact of events such as an illness or disability that prevent us from working on our financial stability cannot be underestimated. The ugly truth: if you can't work, you're in a delicate financial position.
When it comes to protecting your income in the face of adversity, two crucial options often come to mind: Critical Illness insurance (also known as Specified Serious Illness Cover) and Income Protection insurance. Each offers a distinct set of benefits and considerations, leaving individuals to ponder a pivotal question: which is the best choice for their unique circumstances?
While they both provide financial support during difficult times, they serve distinct purposes and have different features. In this blog, we'll explore the differences between critical illness and income protection insurance in Ireland.
What is Critical Illness Insurance?
Critical illness insurance, also known as specified serious illness cover, is designed to provide a lump sum payment in the event you are diagnosed with a specified critical illness covered by your policy. These illnesses typically include major health conditions like cancer, heart attack and stroke. Critical illness insurance offers financial support at a critical time in your life when you may be unable to work due to an illness.
Key features of critical illness insurance in Ireland:
Lump Sum Payment
When you're diagnosed with a covered critical illness, your policy pays out a tax-free lump sum, which can be used for medical expenses, mortgage payments, debt clearance, or any other financial obligations.
Predefined Illnesses
Critical illness policies are specific to a predefined list of critical illnesses. The coverage varies from one provider to another, so it's essential to carefully review the policy terms and conditions.
One-Time Payout
Critical illness insurance typically provides a single payout upon diagnosis. If you have a standalone serious illness policy, once the benefit is paid, the policy ends.
If you have an accelerated serious illness policy, in other words, if you purchased critical illness as part of your life insurance or mortgage protection policy, when the payment is made, the life cover is reduced accordingly. 
Gain a deeper understanding of the intricacies surrounding critical illness by reading our article, Serious Illness Cover Explained: Your Comprehensive Handbook.
Critical Illness Insurance: Pros and Cons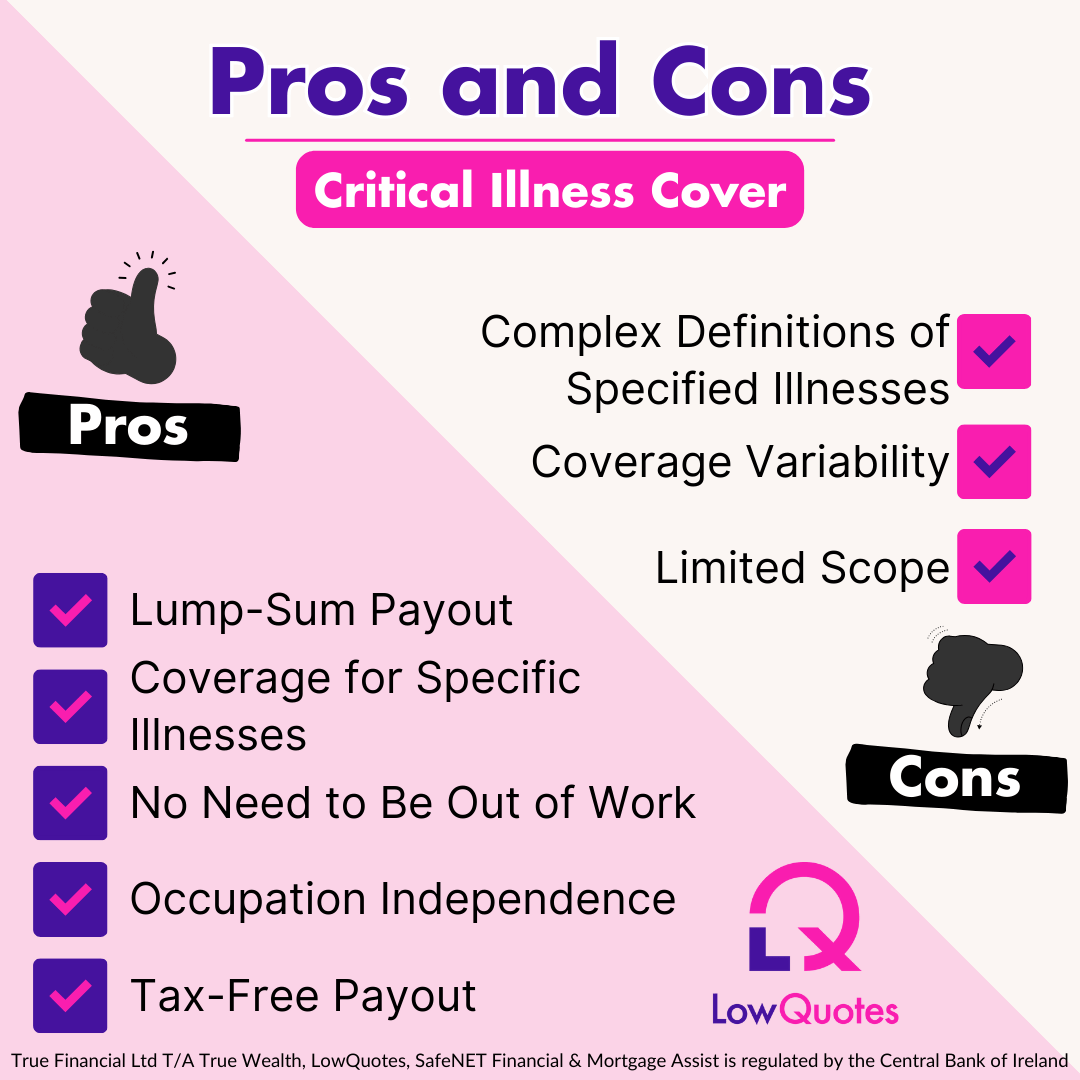 Pros:
Lump-Sum Payout: Critical Illness Insurance provides a lump sum payment upon the diagnosis of a specified critical illness or medical condition. This money can be used for medical treatments, paying off debts, paying for children's education or maintaining your lifestyle.
Coverage for Specific Illnesses: It offers coverage for a predetermined list of critical illnesses, which can include conditions like cancer, heart attack, stroke, and more, depending on the policy. This specificity ensures you're protected against severe health setbacks.
No Need to Be Out of Work: You can receive the payout even if you continue working or return to work after diagnosis, making it a valuable resource to cover medical costs and lifestyle adjustments.
Occupation Independence: Unlike Income Protection insurance, your occupation doesn't affect your premium for Critical Illness insurance. Premiums are typically determined by factors like your age, health, and coverage amount, not your specific job or occupation. This can make it a more predictable option for some individuals.
Tax-Free Payout: The benefit payout is entirely tax-free, providing you with the full sum without deductions. This financial support can be crucial during a challenging time and can be used however you see fit, such as to cover medical expenses, pay off debt, or make necessary lifestyle adjustments.
Cons:
Limited Scope: Critical Illness Insurance only covers specific critical illnesses mentioned in the policy. It doesn't provide financial protection if you're unable to work due to non-critical health issues.
Coverage Variability: The coverage offered by different providers can vary significantly in terms of the illnesses covered and the policy terms. This makes it crucial for individuals to carefully compare policies and select one that aligns with their specific needs. This is why it's essential to talk to one of our financial advisors at LowQuotes. We shop around on your behalf, and we can give you the best advice considering your goals and needs.
Complex Definitions of Specified Illnesses: Critical Illness insurance policies often come with intricate and detailed definitions of the critical illnesses they cover. Getting advice from our financial advisors will help you make informed decisions.
Helpful information about Critical Illness Cover
Explore our informative articles on Critical/Serious Illness Cover to empower yourself with the knowledge needed to make well-informed decisions.
What is Income Protection Insurance?
Income protection insurance is designed to replace a portion of your income if you become unable to work due to any illness, regardless of whether it is a critical illness or a less severe health condition (pre-existing conditions may be excluded), injury, or disability.
This type of insurance provides ongoing financial support to help you cover your daily living expenses while you're unable to earn an income.
Key features of income protection insurance in Ireland:
Monthly Income Replacement
Income protection policies provide a monthly income replacement, usually up to 75% of your pre-disability earnings. This helps you maintain your standard of living and meet financial obligations like rent, mortgage, bills, children's education, and other daily expenses.
Wider Coverage
Unlike critical illness insurance, income protection covers a broader range of illnesses, injuries, and disabilities, making it more versatile and applicable in various situations.
Long-Term Support
Income protection policies are designed to provide financial support for an extended period, often until retirement age or until you recover and can return to work.
Income Protection Insurance: Pros and Cons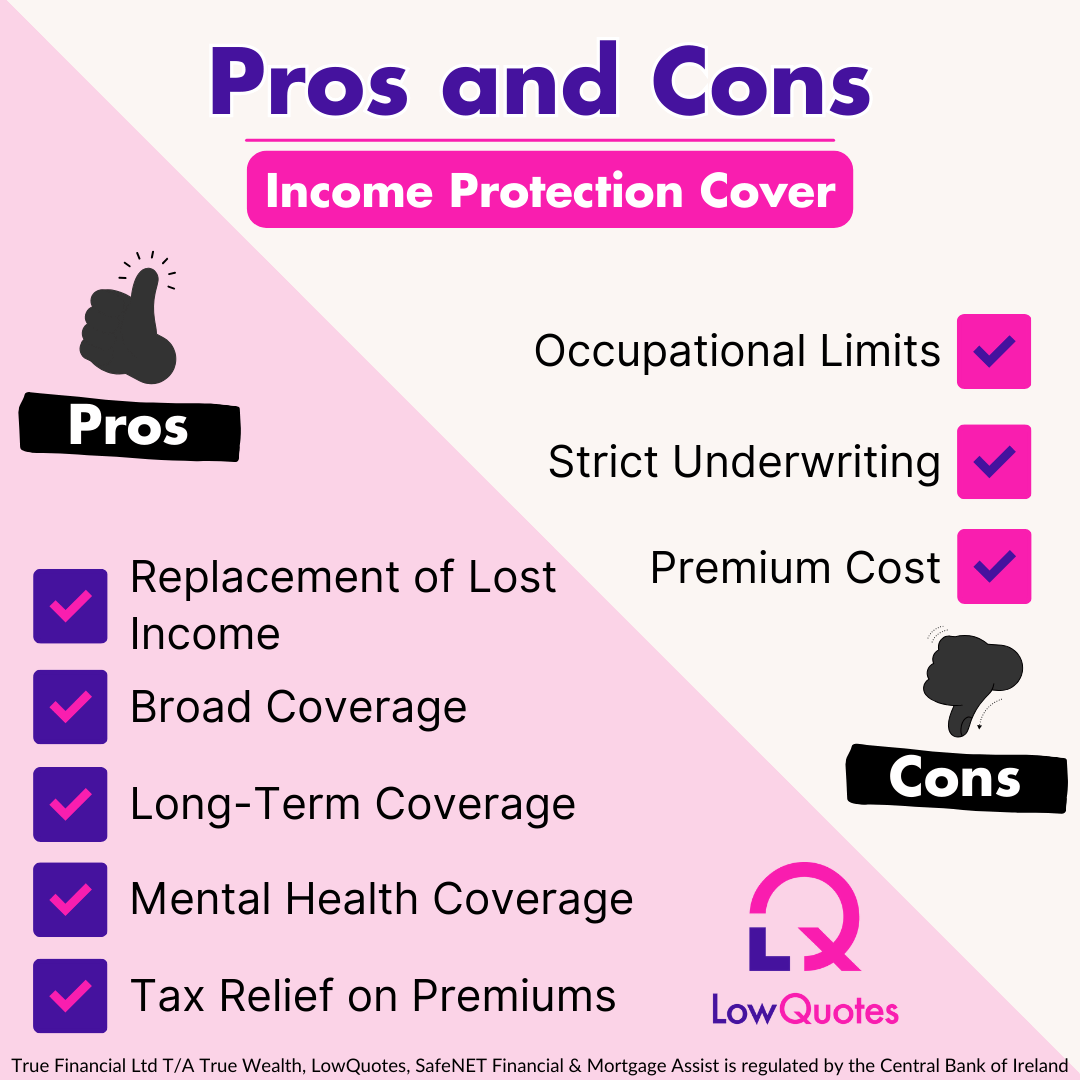 Pros:
Broad Coverage: Income Protection Insurance provides ongoing financial support if you're unable to work due to any illness or injury, not just critical illnesses. This includes temporary and long-term disabilities.
Replacement of Lost Income: It typically offers a percentage of your pre-disability income as a regular monthly benefit, ensuring that you can continue to cover your living expenses.
Long-Term Coverage: Income Protection Insurance can cover you for an extended period, often until retirement age, providing long-term financial security.
Tax Relief on Premiums: Premiums paid for Income Protection insurance are tax-deductible, providing you with potential tax savings. This tax relief can make the cost of coverage more affordable for policyholders.
Mental Health Coverage: It covers mental health conditions, such as anxiety, depression, and stress-related disorders.
Obs. Royal London is the only provider of Critical Illness Cover in Ireland that includes a partial payout for adults receiving treatment for severe mental illness.
Cons:
Premium Cost: Premiums can be higher than Critical Illness Cover, especially if you want comprehensive coverage with a short waiting period and a high benefit amount.
Occupational Limits: Securing coverage can be challenging for individuals in manual labor occupations or those with a high risk of injury.
Strict Underwriting: Income Protection insurance often involves a stricter underwriting process compared to Serious Illness cover. Providers typically assess your medical history, lifestyle factors, and occupation in greater detail. 
Helpful information about Income Protection Cover
Explore our informative articles on Income Protection Cover to empower yourself with the knowledge needed to make well-informed decisions.
Which one is right for you?
Critical Illness Cover is well-suited for addressing immediate, short-term expenses associated with critical health conditions. On the other hand, income protection is designed to replace your income over the long term, allowing you to continue with your life despite unexpected setbacks.
You don't need to limit yourself to just one option. In specific circumstances, combining both Critical Illness Cover and Income Protection can offer a more comprehensive level of financial security. 
Having both income protection and critical illness cover in place can be a wise financial strategy. These two policies complement each other effectively. While income protection provides you with a regular income stream if you're unable to work due to illness or injury, critical illness cover offers a lump sum payment upon the diagnosis of a specified serious illness. By having both policies, you create a comprehensive safety net for your financial well-being.
Income protection ensures ongoing financial support for day-to-day expenses, while critical illness cover provides a substantial payout to cover immediate medical costs or lifestyle adjustments. This dual approach can offer valuable peace of mind, knowing that you have coverage for various scenarios and potential financial gaps.
Reach out to one of our financial advisors for personalised guidance.
To help your comprehension of the distinctions between critical illness and income protection, let's outline the key variances between the two: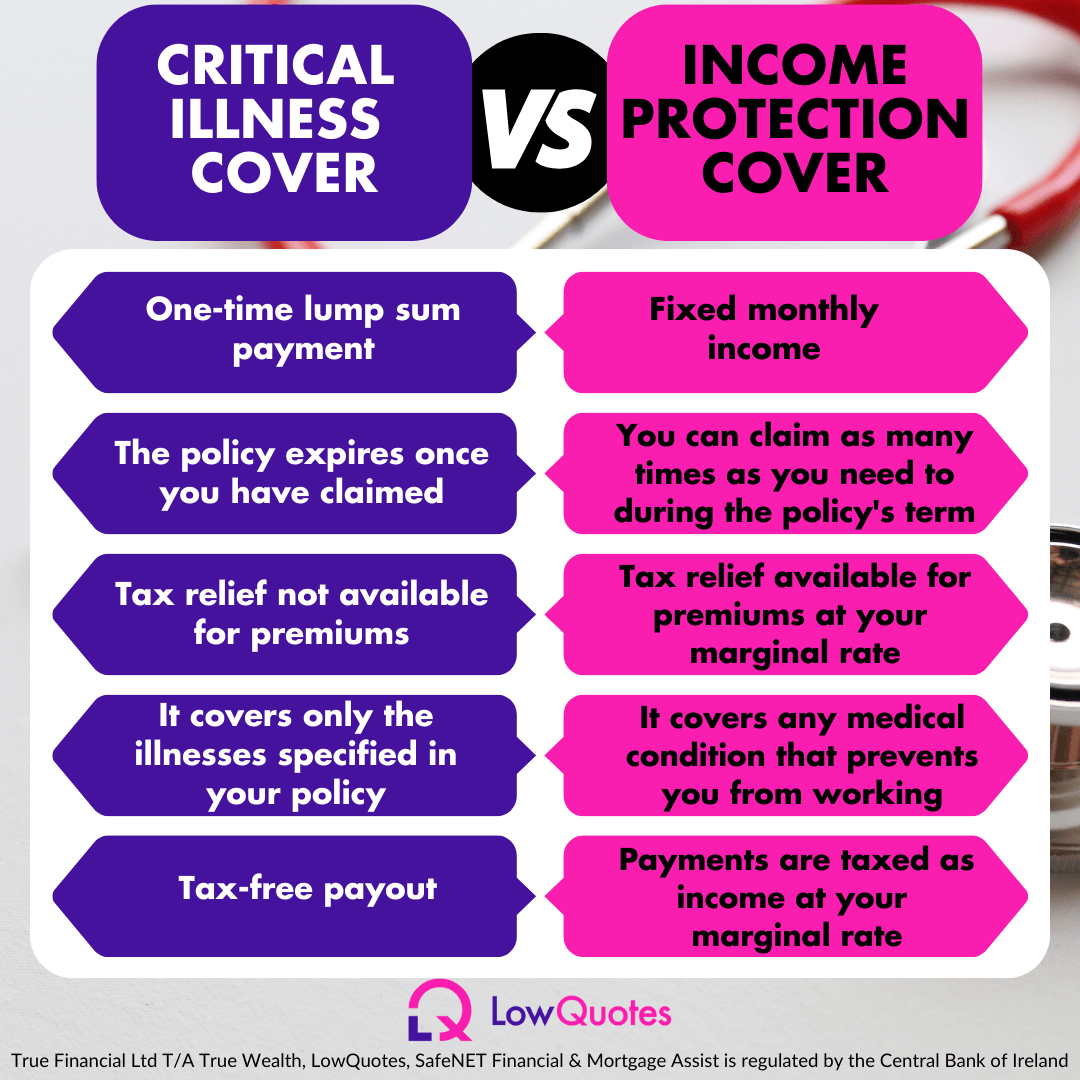 Practical Examples:
Example 1: Income Protection
Sarah had been working as a software developer for five years, enjoying a comfortable salary and a fulfilling career. However, she never expected to be diagnosed with a serious medical condition that required her to take an extended leave of absence from work. Fortunately, she had wisely invested in income protection insurance.
When Sarah's illness forced her to stop working, her income protection policy kicked in, providing her with a monthly benefit equal to 75% of her pre-tax income. This financial support allowed her to cover her mortgage payments, utility bills, groceries, and other essential expenses while she focused on her recovery. Without the income protection policy, Sarah would have struggled to make ends meet during her illness, but thanks to it, she could concentrate on regaining her health without worrying about her financial stability.
Example 2: Critical Illness Insurance
Cormac was a self-employed graphic designer who had always taken good care of his health. However, life can be unpredictable, and he was diagnosed with stage III lung cancer, requiring extensive medical treatment. Cormac had wisely purchased a critical illness insurance policy several years earlier.
Upon receiving his cancer diagnosis, Cormac submitted a claim to his critical illness insurance provider. Within a few weeks, he received a lump-sum payment of €100,000, which was the coverage amount of his policy. This financial support was a game-changer for Cormac, as it allowed him to cover his medical expenses, such as chemotherapy and surgery, as well as hire additional help for his business during his treatment.
Cormac's critical illness insurance policy not only provided financial relief but also peace of mind during a challenging time. It ensured that he could focus on his recovery and continue supporting his family without worrying about the financial burden of his illness.
Get your protection quotes with LowQuotes
LowQuotes is a market-leading online broker in Ireland with over 800 5-star Google rating and 25 years of experience. We are proud to be awarded Insurance Broker of the Year 2022 as the result of our team's dedication to providing market-leading independent advice and exceptional customer service.
Whether you're seeking a quote for Income Protection or Critical Illness Cover, we have you covered. We'll search on your behalf to discover the most favorable rates and terms tailored to your requirements.
Simply fill out a short online form, and LowQuotes will provide you with a list of policies and prices to choose from.
Get in touch today!