Whether you're looking to purchase a home or you are already a homeowner, you've probably come across some myths and misinformation about Mortgage Protection Insurance. Amidst so much information available and so many different viewpoints, it's simple to become entangled in a web of myths and misconceptions about this kind of insurance.
But don't worry,  we are about to embark on a journey to debunk all the myths you've heard about mortgage protection insurance and help you make informed decisions and protect your most valuable asset.
Myth: You must purchase Mortgage Protection from your mortgage lender or bank
Many people decide to take their mortgage protection from their mortgage lender, believing they must or that will be more affordable that way.
Firstly, by law, you're not required to buy mortgage protection from the same lender or bank. In fact, buying mortgage protection insurance elsewhere is often cheaper and faster. This happens because banks can only offer you one price for mortgage protection due to their affiliation with a particular provider.
Getting a mortgage protection quote with LowQuotes is a convenient and hassle-free way to get the necessary protection for your family's future. With just 60 seconds of your time, you will receive a mortgage protection quote and compare different coverage options from the best Irish life insurance providers.
Myth: Mortgage protection insurance is not mandatory in Ireland
When you take out a mortgage on your primary residence (family home), Irish law requires you to purchase mortgage protection insurance or life insurance that covers the length and value of the mortgage. This is to guarantee that in the event of the policyholder's death, the outstanding balance of your mortgage will be paid off.
However, the lender might agree to provide you with a mortgage without this protection if:
– You are buying an investment property
– You can't get cover, for example, due to a current serious illness, health problems, or dangerous occupation (you must provide two declined letters)
– You have life insurance already in place that covers the length and value of the mortgage
Exemptions are granted on a case-by-case basis; therefore, even if you meet the criteria for one of the mentioned exemptions, the lender may still require that you have mortgage insurance in place before approving your mortgage.
Myth: You can't switch Mortgage Protection Insurance providers
You can switch your Mortgage Protection provider if you wish. By witching a mortgage protection insurance provider with LowQuotes, you can make significant savings as we provide discounts of up to 30%.
Example: 
Dual Mortgage Protection (2 lives)
35 years old (1 smoker and 1 non-smoker)
Mortgage Value: €400,000
Term: 30 years
Current Mortgage Protection
Mortgage Protection With LowQuotes
Myth: Mortgage protection insurance is too expensive
The cost of mortgage protection insurance can vary depending on factors such as your age, health, mortgage amount, and term or if you're a smoker or not. 
Low Quotes provide a straightforward Morgage Protection Calculator so you can get a quote in 60 seconds comparing the prices of the best mortgage protection providers in Ireland.
Mortgage Protection Insurance Cost
Example:
Age: 30
Non-Smoker
Amount €250,000
Term: 20 years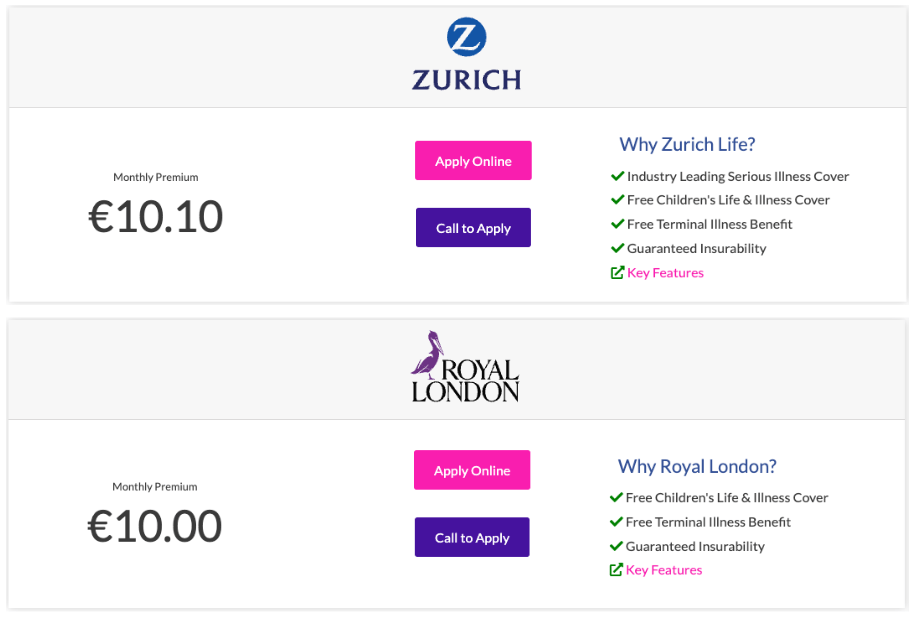 Myth: Once you have mortgage protection insurance, you are covered for life.
Mortgage protection insurance is tied to your mortgage term. Once the mortgage is paid off the coverage ends. 
If you switch your mortgage to a new lender, you may need to purchase a new policy or transfer the existing one to the new mortgage, as long as the existing policy covers the amount and term of the new mortgage.
Myth: I don't need Life Insurance if I have Mortgage Protection
There is a common misunderstanding between Life Insurance and Mortage Protection. The mortgage protection policy will pay off the outstanding balance of your mortgage in the event of your death, while the life insurance will pay off your mortgage and the remainder will be paid to your family.
Both are life protection but in mortgage protection, the cover amount reduces as you pay off your mortgage; while in life insurance the cover amount doesn't reduce.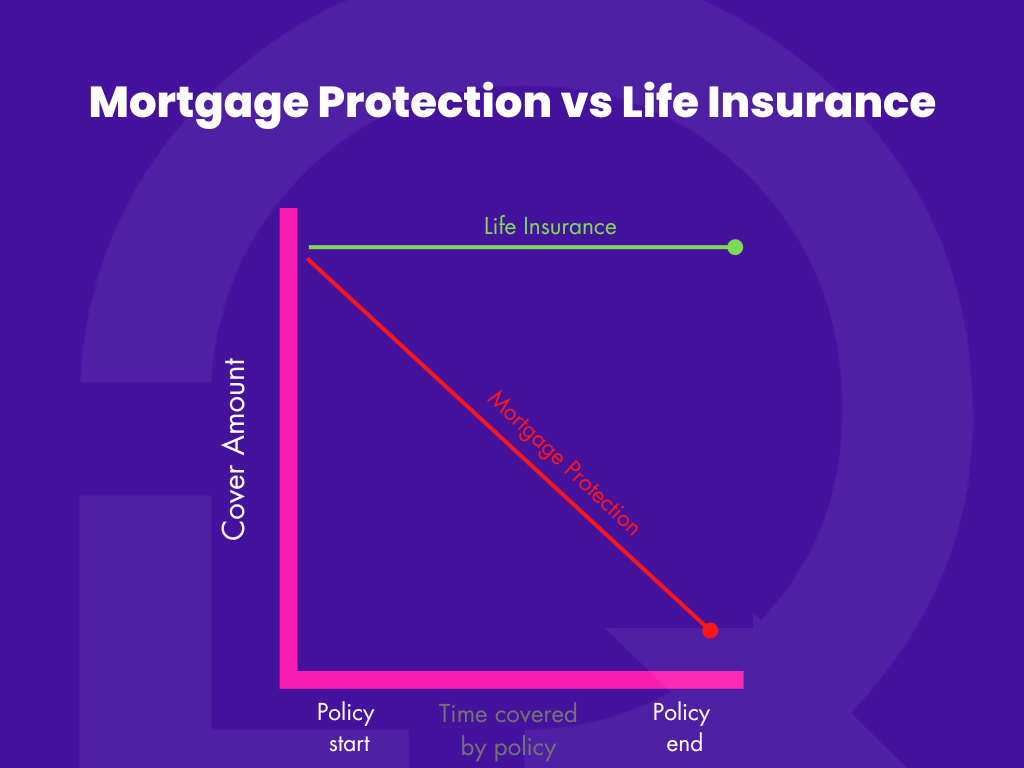 If you have a family with children who are financially dependent on you, having a life insurance policy in addition to your mortgage protection could be extremely beneficial. This is because mortgage protection will pay off your mortgage and life insurance will provide financial support to your family if you pass away. 
Life Insurance is designed to cover the loss of your income for your family. Bringing up a child can be very expensive with all the costs of childcare, education, healthcare, clothes, etc. Not to forget your household income even if you didn't have children would be severely impacted in the case of your premature death. 
Consider a scenario in which you have mortgage protection as your only insurance and you pass away. The mortgage will be paid off, but what about your family's essential needs like food, clothing, and education?
Example:
Seamus, 45 years old, the breadwinner, married with 2 children. He has a mortgage of €300,000 and average monthly costs of €3,300 without the mortgage. He decides to take out both Mortgage Protection and Life Insurance to ensure his wife and children would be able to have a roof over their heads, pay the bills, help pay for their children's education and maintain their standard of living in the event of his premature death.
If Seamus passes away his family will be financially protected with 
– Mortgage Protection: The Mortgage Protection will pay off the mortgage and his family will continue to live in the house without the burden of mortgage payments. Or without the risk of losing the property if they are unable to pay for it.
– Life Insurance: The Life Insurance will provide a lump sum to Seamus' family covering living expenses, children's education, and alleviating financial stress during this difficult time.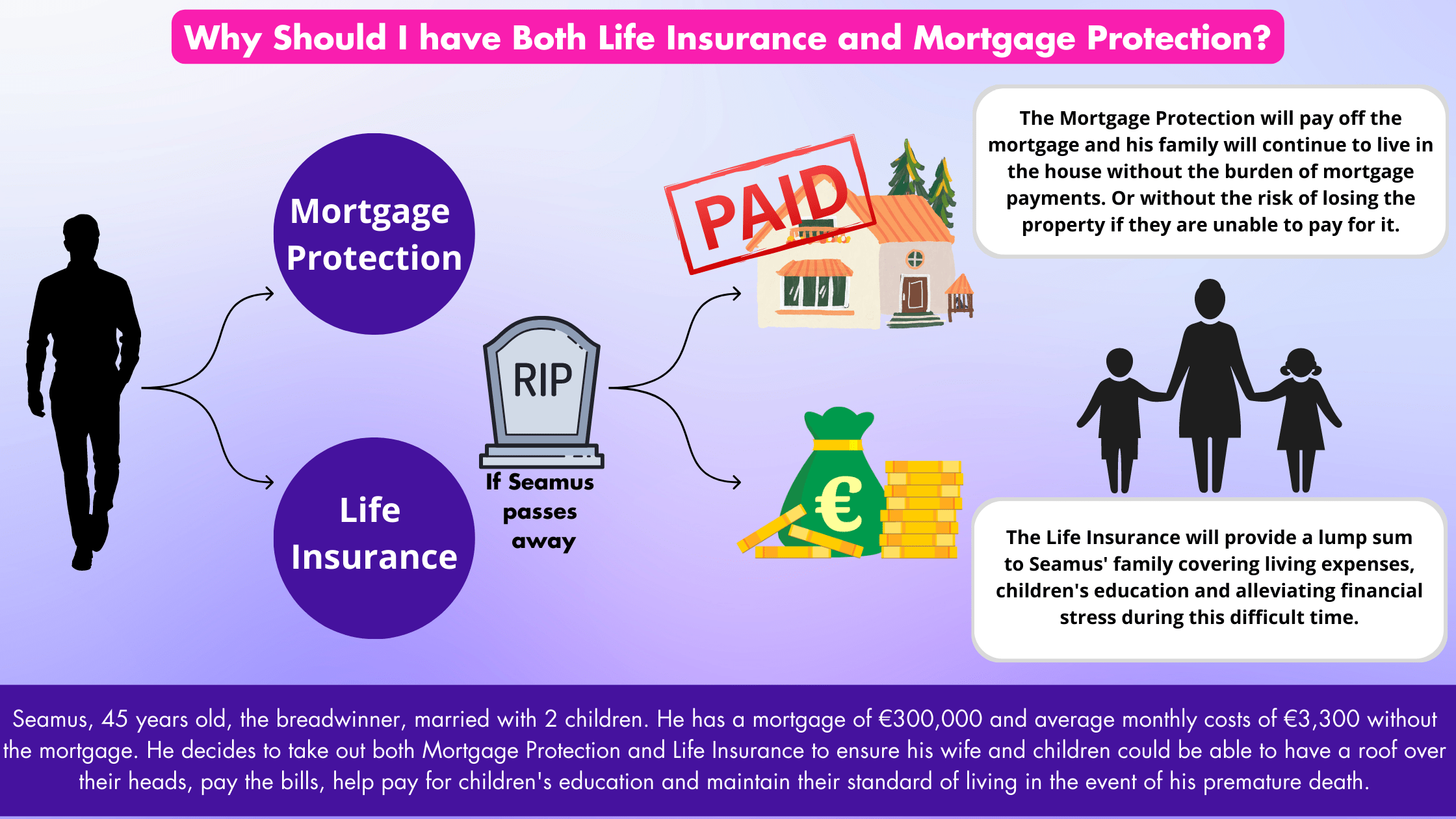 We discuss more in-depth the differences between Mortgage Protection and Life Insurance in our blog.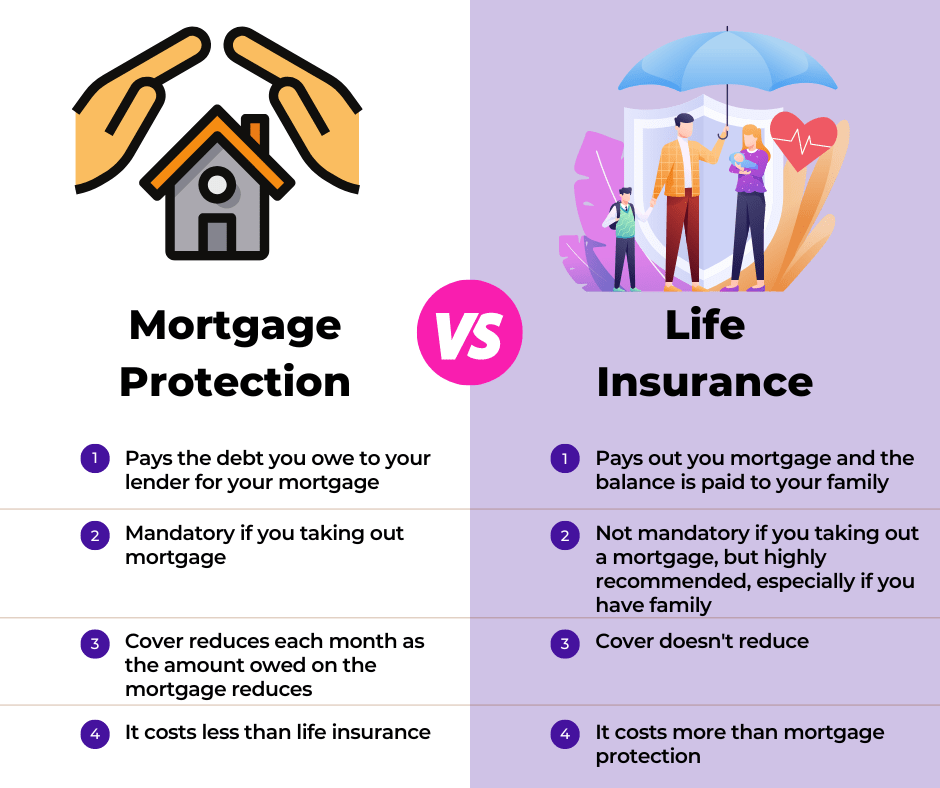 We put some frequently asked questions together to help you navigate through life insurance easily and make informed decisions.
If my spouse dies, I will receive the total cost of our mortgage
This is not correct. Your Mortgage Protection amount reduces as the amount on your mortgage reduces. You will receive this reduced amount, which will be enough to cover the remainder of your mortgage.
Mortgage protection insurance only covers death
While the main purpose of mortgage protection insurance is to pay off the mortgage balance in the event of the policyholder's death, some policies might include additional benefits. 
Some of these benefits are free of charge like Aviva Care, a health and well-being service provided by Aviva that is included with all new protection policies (Life Insurance, Mortgage Protection, Serious Illness, and Income Protection).
Helping Hand is another benefit provided by Royal London for all new protection policies. If you ever suffer a serious illness, injury or bereavement, Helping Hand provides you with the additional support you might need beyond a financial payout.
And with an additional fee other optional benefits like serious illness, hospital cash benefits, accident cash benefits, or surgical cash benefits can be added to the mortgage protection policy.
Get your Mortgage Protection Quote with LowQuotes
It's important to keep in mind that the specific details and terms of mortgage protection insurance policies can vary, so it's essential to carefully read and understand the terms and conditions before purchasing a policy. 
LowQuotes is a market-leading online insurance broker in Ireland with a 5-star Google rating. By purchasing mortgage protection insurance through LowQuotes you're able to save up to 30% as we compare mortgage protection from various providers to find you the lowest quote.
Learn more about the differences between mortgage protection and life insurance in our blog.
We also discuss in our blog the myths and common misconceptions about life insurance.
If you have any questions you can contact LowQuotes and one of our financial advisors will help with your query. Alternatively, you can read our article Mortgage Protection: Everything you need to Know where we clarify the most asked question about this insurance.
We also provide a wide variety of Financial services such as Mortgages, Life Insurance, Mortgage Protection, Pensions, Financial Planning, and Savings & Investments. If you have any questions about one of our services, feel free to contact us today.