A heart attack, also known as a myocardial infarction is a critical medical event that requires immediate medical attention and can have long-term consequences on an individual's health and well-being. Irish Heart estimates that 10,000 new heart attack cases occur annually in Ireland.
Due to the severity and possible effects of a heart attack on a family and their finances, there is a big concern for many people whether critical illness covers heart attacks or not. 
What is Critical Illness Cover?
Critical illness cover is a type of insurance that pays you a tax-free lump sum if you are diagnosed with one of the illnesses listed on your policy. This list includes serious and life-threatening illnesses that might require you to be unable to work for a long period of time.
The purpose of critical illness insurance is to alleviate the financial burden that arises from medical treatment, loss of income, or additional expenses associated with a serious illness.
Is Heart Attack an Issue in Ireland?
Heart attack, is a significant health issue worldwide, and Ireland is no exception. There are 10,000 new cases yearly, which is the most common cause of death in Ireland. It is also the second most frequent medical cause of critical illness claims for men, and third for women, according to Aviva.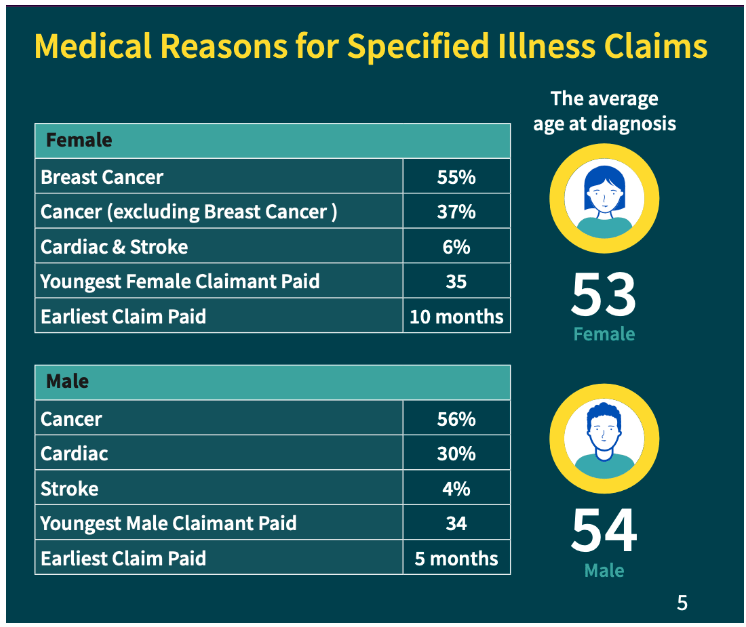 According to Irish Heart, heart failure remains a major public health issue with high recurrent hospital admission. Once a person has been admitted to hospital with heart disease there is a high chance of readmission. It's estimated that some 24% of all heart failure patients are readmitted to the hospital within 12 weeks of discharge, with the figure rising to 44% after a year.
Women in Ireland are six times more likely to die from cardiovascular disease than breast cancer, with heart disease and stroke accounting for 1 in 4 of all fatalities.
Does critical illness payout after a heart attack?
The cover for heart attacks under critical illness insurance can vary depending on the insurance provider and the specific policy. However, nearly all Critical Illness Cover policies in Ireland cover heart attacks, though the severity of the attack may affect whether a payout is due.
Critical illness payouts, such as those provided by insurance policies, often take into consideration the severity of the illness. The specific criteria for determining severity can vary depending on the insurance provider and the policy terms.
Royal London provides the a comprehensive cardiac coverage, including Heart Attacks, Heart Failure, and Heart Surgery. Additionally, they offer, an Advance payment of benefit for heart surgery. This provides an upfront payment of up to €20,000 if you need specific heart-related surgery in the future.
If my family has cardiovascular health issues, will I still be able to purchase critical illness cover?
If your family has a history of heart disease, it's advisable to consider purchasing critical illness insurance.
Having a higher risk of heart disease does not automatically disqualify you from getting coverage, even though the majority of life insurance companies take family medical histories into account when reviewing a critical illness insurance application. There may be effects on your premium costs and coverage limit.
Can I purchase a critical illness cover after I've had a heart attack?
No. If you have been refused Critical Illness, or you think you would be refused Critical Illness protection due to a pre-existing health condition, such as heart attack you have two alternatives.
You can get Multi-Claim Protection Cover provided by Royal London that helps to financially protect you from the impact of other serious illnesses. It also covers other major health impacts like a long hospital stay, for example, after a serious road traffic accident, and a range of surgeries.
It can potentially payout multiple times so you can retain some level of cover even after making a claim. For the most severe health events such as death and terminal illness, the full amount is paid out.
The other option is Cancer Cover. Cancer Cover is offered by Zurich and is different from traditional serious illness plans because it focuses solely on cancer; 
When a policyholder is diagnosed with cancer according to the policy's definition, Cancer Cover policies often pay out a lump sum of money that can be used to cover medical bills, alter one's lifestyle, or cover other costs related to the condition. You can read more about it in our article.
Why should I purchase Critical Illness from LowQuotes?
Low Quotes is a market-leading online insurance broker in Ireland with a 5-star Google rating and 25 years of experience. We are proud to be awarded as Insurance Broker of the Year 2022 as the result of our team's dedication to providing market-leading independent advice and exceptional customer service. 
Our critical illness comparison service lets you easily compare prices and benefits across all of Ireland's main insurance providers; to find the best Critical/Serious Illness cover that best meets your needs and budget.
If you want to learn more about serious illness, we have a comprehensive guide answering the most frequent asked questions about this topic.
We also provide a wide variety of Financial services such as Life Insurance, Health Insurance, Mortgage, Mortgage Protection, Pension, Financial Planning, Savings & Investments. If you have any questions about one of our services, feel free to contact us today.