We often prioritise insurances such as health insurance, car insurance, or home insurance, many people overlook one essential aspect of their financial security: income protection insurance.
Income Protection is an insurance policy that works to provide you with a replacement source of income if you can't work due to an illness, injury, or disability for a period of time. It helps you supplement your income for a fixed period, as defined in the policy.
Income & Lifestyle
Your lifestyle will always depend on the money you take home. It is inherently true to say that "money makes the world go around" granting you the little perks of life from "What should we do at the weekend?" to your next big family holiday or your children's educational future.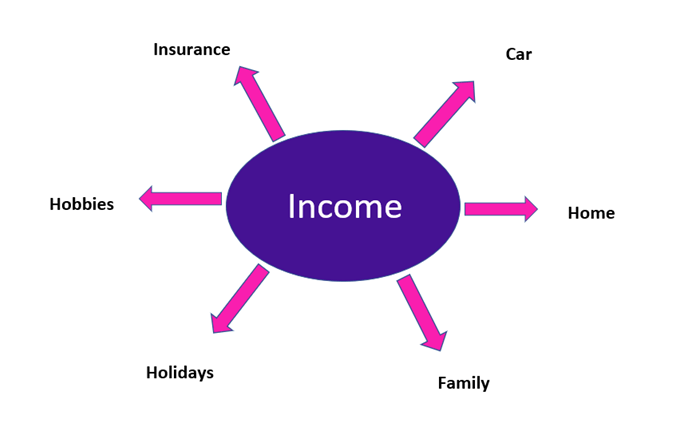 Therefore, it is crucially important to look into having Income Protection as part of your financial well-being. It will ensure you have money coming in if you cannot work due to an accident, injury, or illness.
The information is there and available for anyone, reach out to one of our advisors and they'll be happy to help!
How does Income Protection work?
Income Protection covers up to 75% of your salary to a maximum benefit amount depending on the individual provider. When you are off work due to illness or injury, it will continue to pay out until you are well enough to return to work. It makes sure that your household bills are looked after and your standard of living is not put on hold.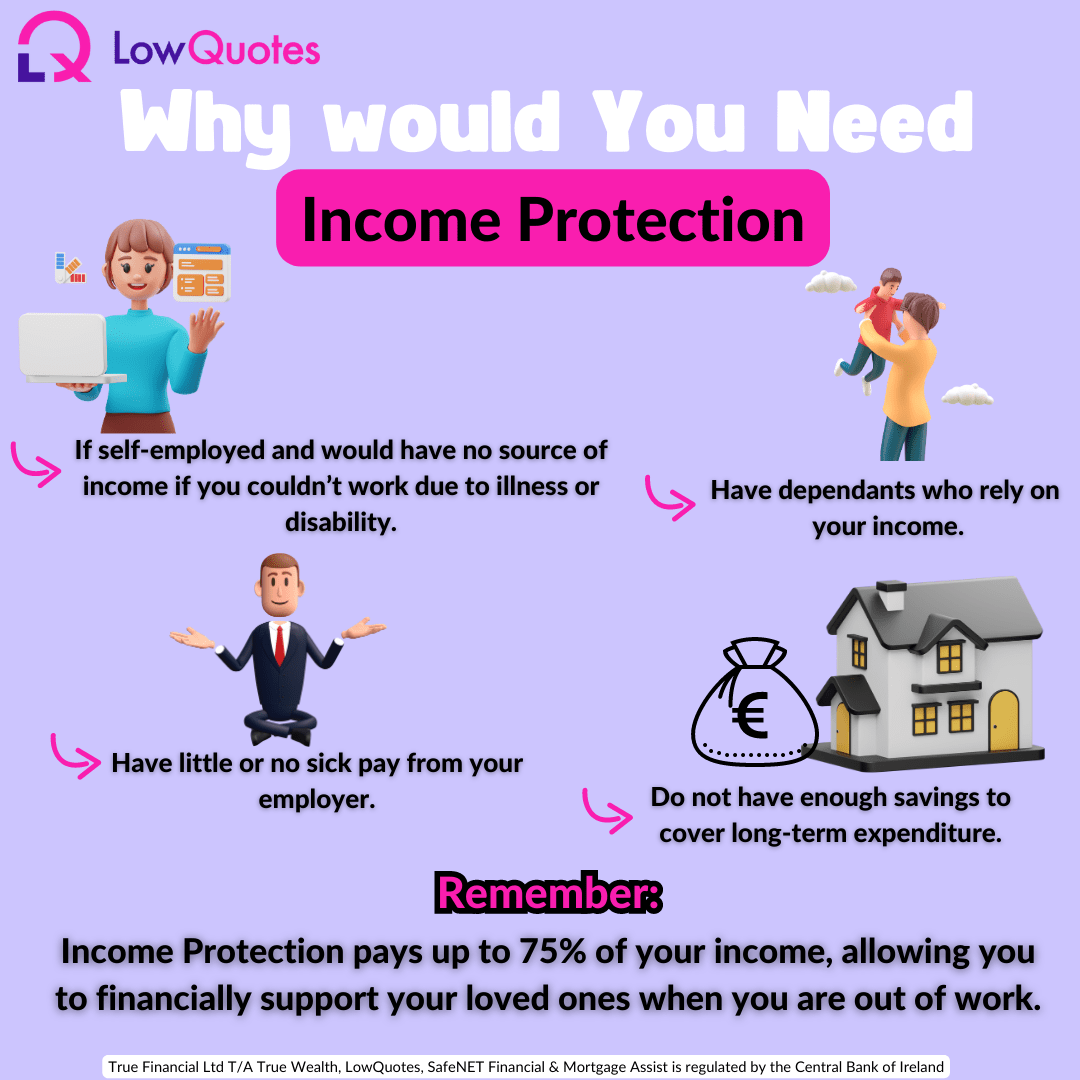 You can take out an income protection policy if:
You are in full-time work (more than 16 hours per week)
or
Self-employed and earn a wage
or
Over 18 (will vary based on plan)
What is a Deferred Period for Income Protection? 
The deferred period of income protection is the period between when you are unable to work and when the policy starts to pay out.
Example: If you choose a 4-week deferred period, your income protection policy will start to pay out once you have been unable to work for 4 weeks due to injury or illness.
Typically, the deferral periods in Ireland last for 4, 8, 13, 26, or 52 weeks.
Income Protection Providers Ireland
There are a host of income protection providers in Ireland, including:
Each lender will have its own terms for income protection. You have to pay a monthly premium based on your occupation, age, and health status. An advisor here at LowQuotes will inform you of the required information for your individual situation, giving you a quote within minutes!
Income Protection Additional Benefits
With Income Protection you have the opportunity to avail of many benefits. Individual providers give a unique version of each benefit.
Hospital Cash Benefit

– An income is received if the insured is hospitalised for more than 7 days. The insured will receive the equivalent of 1 day's income (out of a 365-day year) for each day spent in the hospital.
Guaranteed Increase Option

– A policyholder has the option to increase their cover and main benefits by 20% (From the original amount). This can be arranged every 3rd anniversary.
Occupation Change Benefit –

Your income protection plan will continue if your client has changed jobs, regardless of their new role. As a result, while looking for a new job the ability to make a claim will cease.
Escalation Option (Optional)

– The income payments will increase by 3% throughout the period of the claim.
Aviva Family Care

– Unique to Aviva, it offers completely confidential mental health support services. Click

here

for more information.
Proportionate Benefit

– If a client returns to work part or full-time, either in their old job or new career and their earnings are less than earned from a previous employment they will receive this benefit.
Factors that impact your Income Protection Policy
Below is a list of the information that impacts your premium amount. Our financial advisors will help you assess the best outcome that suits you.
Your Occupation

Your Age

Lifestyle

Deferred Period length

Smoker / Non-smoker
A list of questions that you should consider also:
Are you self-employed?

If you are sick how long will you receive a salary?

What length of time should my cover last?

How much benefit is "ideal"?
What is an Executive Income Protection?
Executive income protection allows employers to provide employees with additional income if the employees are unable to work or carry out the tasks of their employment. The employee must be unable to perform the essential duties to apply.
Your provider pays the income benefit to your employer, who then passes it on to the employee (you) through your annual income. Deductions from tax and other benefits are made if relevant. A minimum protection policy can be taken out for as little as €10 a month.
Can you claim tax relief on income protection?
With Income Protection you can claim full Irish tax relief on the premiums that you pay. The tax relief will be equaling the marginal rate of the Irish tax. Depending on the rate of tax that you pay, 20% or the higher rate of 40%, claiming the tax relief will reduce your cost on your income overall. 
For example, a monthly premium of €50 at 40% tax relief will only cost you as little as €30.
All the information will be provided by our professional qualified financial advisors here at LowQuotes. Visit our website or contact us over the phone to see how much you can save on income protection and its benefits for your well-being.
You can read more about Income Protection in our blog post: You Guide to Income Protection Insurance.
Alternatively, you can contact us or book your Income Protection Appointment and we are more than happy to help you find the best protection for you and your family.