Wouldn't it be wonderful if we could foresee the future and take action before things occur? If we had a heads-up about what's coming next, we could get ready for potential risks or take advantage of positive outcomes.
Unfortunately, time machines are still science fiction, and we must be prepared for challenging situations that may arise in life.
If you identify the 'what ifs' that would have negative impacts on your life, it's easier to put some financial protection in place to help your family if something happens to you.
This article aims to make you think about critical scenarios you may not have previously considered or, if you have, may be putting off for a number of reasons.
1. What if you got seriously ill?
Serious illnesses can strike unexpectedly, regardless of age, gender, or background. Whether it be cancer or heart disease, health issues can drastically change the course of your life. They often come with substantial medical expenses, loss of income due to the inability to work, and many unforeseen costs. And this may impact your finances significantly.
To provide some financial protection if you suffer serious medical issues or illness, you can get a type of insurance called Serious Illness Cover, also known as Critical Illness Cover, which pays a lump sum if you're diagnosed with a life-threatening illness that is covered and defined under the policy conditions. Examples would include some types of cancer, heart attack, or stroke.
Serious illness can help maintain your family's standard of living or adapt your house for your illness, for example.
According to Aviva's Report 2022, the most common medical reasons for specified Illness claims were breast cancer, cancer (excluding breast cancer), cardiac, and stroke.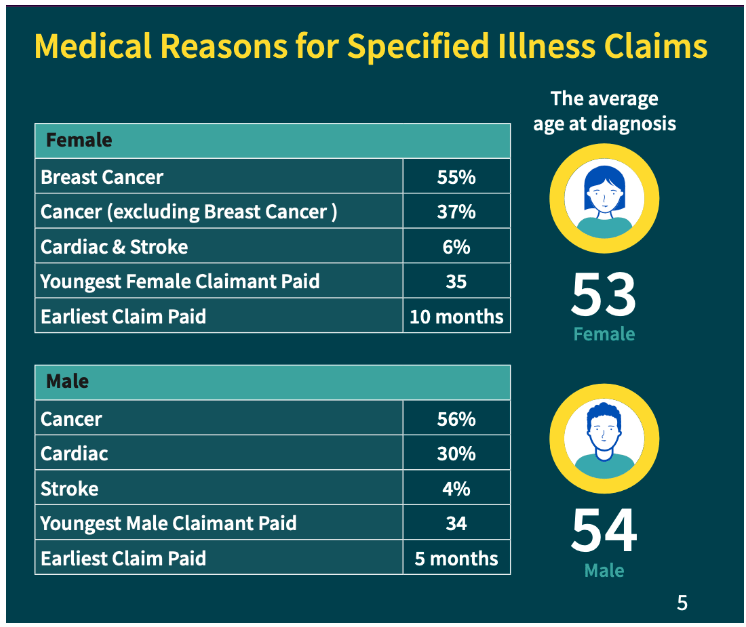 Visit our post with the most frequently asked questions regarding serious illness cover if you want more information to help you decide.
Read our article 6 Things To Know Before Purchasing Serious Illness Cover to make informed decisions.
2. What if you were unable to work for a while?
You never know when an illness or accident could keep you from working for a few weeks or even a few months. Illnesses, accidents, or unexpected health issues can have a significant impact on your ability to work and earn money. Many times, these circumstances can result in a temporary inability to carry out job responsibilities, requiring a period of absence from work.
That's why protecting your income is essential, even if you're only in your 20s. When you cannot work due to an illness or disability and you have financial obligations, such as rent or a mortgage, as well as other people who depend on your income, Income protection insurance could be a good backup strategy. 
Income Protection is an insurance policy that covers up to 75% of your salary, allowing you to financially support your loved ones when you are out of work. It provides you with a replacement source of income for a fixed period, as defined in the policy.
Gain a comprehensive understanding of Income Protection Insurance to empower yourself to make well-informed decisions.
If you have any doubts regarding Income Protection Insurance, look at our thorough Income Protection Guide.
3. What if you weren't around anymore?
The truth is, nobody likes talking about this topic, but death is the only certainty in life. The question you should ask yourself is: Would your loved ones be able to pay their living expenses when you're not around anymore?
It's important to have a plan in place to safeguard your loved ones in the event of your premature death. Life insurance pays out a lump sum if you die during the term of your policy. Your beneficiaries can use the payout from the life insurance company to cover various expenses, such as funeral costs, mortgage repayments, daily expenses, or the education of your children.
We put together some of the most frequently asked questions about life insurance to help you understand the basics of it, whether you're thinking about purchasing a policy or are simply trying to understand your existing coverage.
There are many false beliefs about life insurance in Ireland that eventually discourage people from considering it as a viable alternative. Read our article about myths and misconceptions about life insurance.
Also, consider getting Convertible Life Insurance where you can extend your current policy without having to undergo a medical exam or show proof of good health at the time of conversion.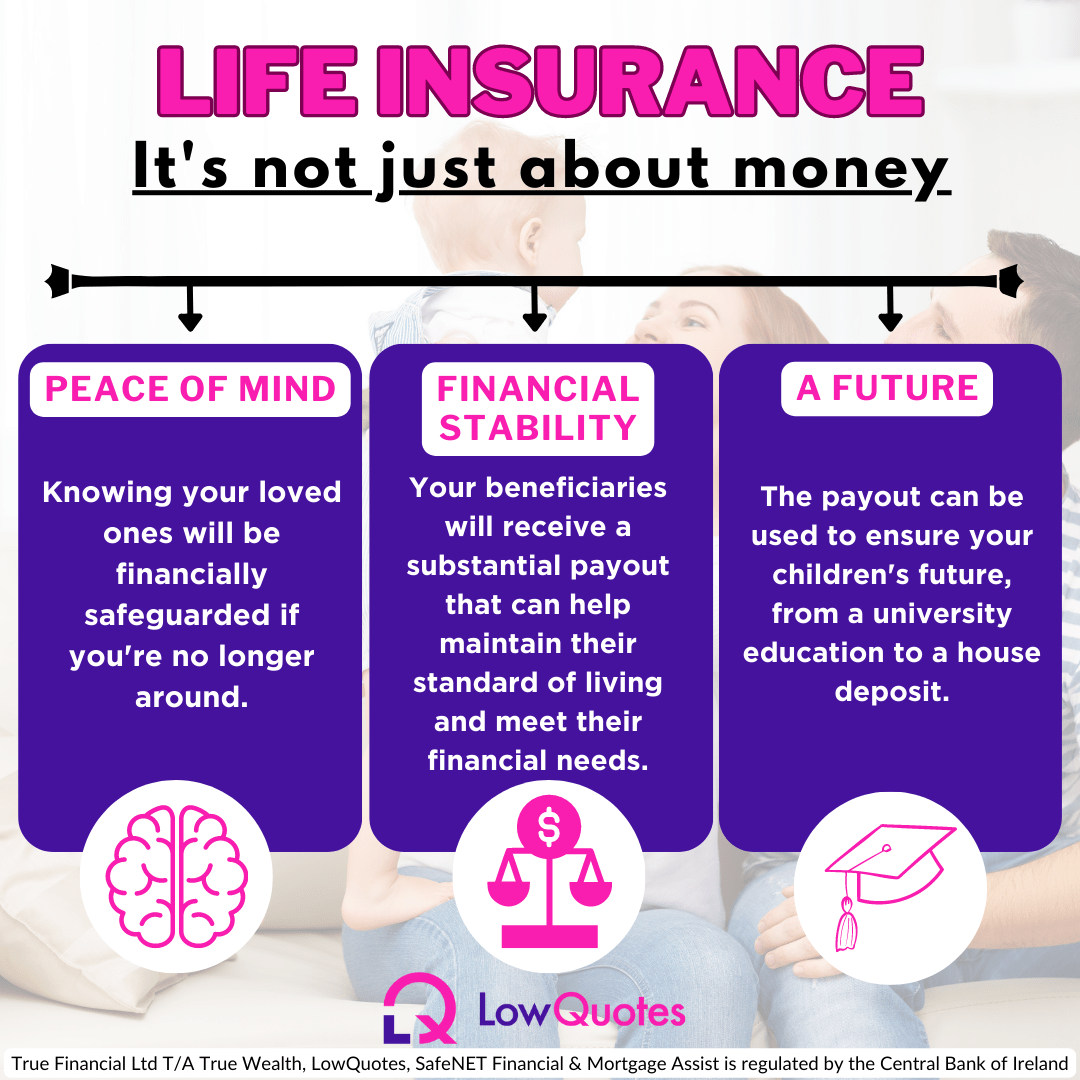 4. What if you just had twelve months to live?
In the event of a severe illness diagnosis with a life expectancy of 12 months or less, you have the option to request an early payout of your life insurance policy.
By receiving an early payout, you can actively participate in financial planning for your family's future.
Usually, to qualify for these benefits, you must meet certain criteria, such as if there are 12 months or more until the policy is due to end. Note that the criteria might differ depending on the life insurance provider.
Many life insurance policies include a terminal illness benefit, but it's essential to review the specific terms and conditions of each policy to understand the coverage offered. You can also speak to one of our financial advisors at LowQuotes.
5. What if you weren't able to pay for your children's education?
Education expenses, especially for children, can be substantial, and it's not always easy to anticipate the full extent of these costs. For example, the exorbitant costs of higher education often catch parents off guard.
According to the Zurich Cost of Education Survey 2023, the average cost of putting a child through third-level education during the period of 3-4 years is €66,152 with student accommodation and €46,560 with rented accommodation. It stands at €25,844 while still living at home, which is still a significant amount of money. 
Investing in a fund can be a great way to save for a long-term goal, such as a child's education, due to the possibility of larger returns than a standard savings account while still maintaining your purchasing power. If you wish to save for your kid's college education, you should consider a children's savings plan.
We can create a Children's Savings Plan tailored to your specific financial situation and educational goals for your children. You can contact one of our financial advisors here at LowQuotes for personalised advice.
6. What if Your Retirement Savings Fall Short?
If your state pension is not enough to sustain a comfortable lifestyle during your golden years, it can be a concerning and challenging situation. Relying solely on a state pension may not provide the financial security needed to cover all living expenses, especially considering potential inflation and rising healthcare costs.
Imagine the distress of realising there is not enough money in the retirement fund as the retirement date approaches.
A private pension can be a valuable solution to supplement your state pension and ensure a more financially secure retirement. And if you have saved enough for retirement, you'll be able to maintain your standard of living and cover essential expenses, reducing the financial burden on your family. 
It's important to start your private pension as early as possible. We advise starting a private pension in your 20s or 30s, when you have a longer investing horizon and can make consistent contributions over a number of years. However, there is always time to start a private pension, even if you're in your 40s, 50s, or beyond. Keep in mind that any contribution you make to your retirement account is preferable to none at all. 
Read our article about setting up a private pension in Ireland. 
If you find yourself unsure about where to begin and overwhelmed by doubts, our Pension and Retirement Guide is here to help.
Get in touch with LowQuotes today!
Low Quotes is a market-leading online insurance broker in Ireland with a 5-star Google rating and over 800 Google reviews. We are proud to be awarded Insurance Broker of the Year in 2022 as the result of our team's dedication to providing market-leading independent advice and exceptional customer service.
If you have any questions regarding our Protection plans, Savings and Investments, Mortgage, Health insurance, Pensions, or Financial Planning, you can contact LowQuotes, and one of our financial advisors will help with your query.